Europe Under Pressure
Bad as the American economy is doing, the picture in Europe is really a good deal bleaker as this Rebecca Wilder chart indicates: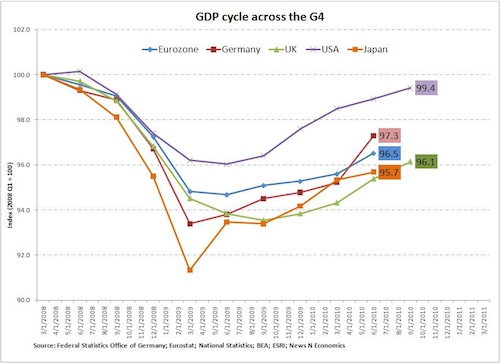 Germany is having more of a classic rebound recovery than we are (and their kurzarbeit plan worked pretty well to help people weather the storm), but it's from a much sharper downturn. And much of the rest of the EU is looking disastrous. When the single currency area was formed, skeptics warned that it would prove unworkable amidst this kind of crisis to yoke very dissimilar economies together into one monetary system. And as Ryan Avent observes there's little indication that the main Euro-area governments wants to take the steps that would be necessary to make the system work:
Something clearly has to give. Policy changes are pushing Europe toward a very long period of stagnation if not an outright return to recession. Workers are underemployed and furious. Core and periphery have seriously diverging views on the direction policy should take. And markets continue to pressure indebted nations to make cuts they may not actually be able to make.
Either the ECB must seriously soften its stance, or Germany and France must suddenly become much more generous to struggling euro zone economies, or the euro zone will face its toughest months yet. If no exit valve for the building pressure can be found, then pressured economies will begin heading for the exits.
It's worth recalling that America's recovery turn a turn for the worse starting with a period of concern around Greece and the Euro. We finally got a single decent month of jobs numbers, but people shouldn't forget that there are still tons of problems lurking in the global economy.