Energy, Inflation, and Recession
Kevin Drum notes some historical data indicating that before 1970, there was no relationship between energy price spikes and inflation but since 1970 the one is always followed by the other: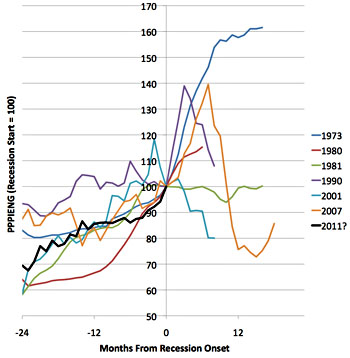 This can be interpreted in a bunch of ways, but let me ask myself what would Scott Sumner say. An energy price shock tends to push the price level up but real GDP down. Consequently, the impact on overall nominal spending is ambiguous. If the central bank looks exclusively at the price level, it'll respond to this shock by squeezing nominal spending which pushes real output lower than the shock alone would. If instead the bank was able to credibly keep nominal spending on an even path then growth would still slow but the crash wouldn't be nearly as sharp and actual contractions in output could be typically avoided. You'd get a rise in unemployment in specifically energy-intensive industries but there'd be no reason to expect a general increase in idleness.
For an example of how this can go wrong, check out the European Central Bank raising interest rates to counter high oil prices. Even a relatively large slowdown in Eurozone economic activity is going to have only a marginal impact on the global price of oil, so to bring headline inflation to their target they'll need all kinds of deflation in the non-energy sector.