Energy Charts of the Year
There have been a number of year-end "Charts of the Year" lists recently, see Ezra Klein's Wonkblog, The Atlantic, the BBC, NPR's Planet Money, and AEI's Jimmy Pethokoukis. But every one of these lists of charts missed one of the biggest economic stories of 2011: The new age of energy abundance in the United States, thanks to recent breakthroughs in advanced drilling technologies (fracking and horizontal drilling) that have unlocked vast supplies of previously inaccessible "unconventional" natural gas and "tight" oil from shale formations around the country. Here are five "Energy Charts of the Year" that help tell the story of the "shale revolution" that is transforming America's energy outlook, with major, positive implications for U.S. energy security, economic growth and job creation, a manufacturing revival, and even government revenues. 1. U.S. net oil imports in 2011 (through November) were only 45.4% of domestic consumption, which is down from the peak of 60% in 2005 and at the lowest level since 1995, thanks to greater energy efficiency and reduced demand, but also in large part due to increased domestic oil production (see chart below).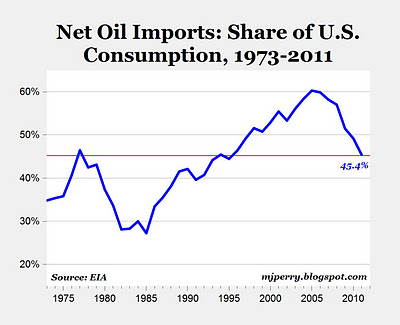 2. The epicenter of the shale revolution is the oil-rich Bakken region in western North Dakota, which has turned North Dakota into America's "Economic Miracle State." The ongoing record-setting oil production in the Peace Garden State (see chart below) continues to make it the most economically successful state in the country, with record levels of employment and income growth, increasing tax revenues, the lowest home foreclosure rate in the country, a strong real estate market with consistently rising prices, and jaw-dropping jobless rates in many counties of the Bakken region below 2%. At the current current pace of record-setting monthly gains in oil production, North Dakota will likely surpass both California and Alaska sometime in early 2012 to become the No. 2 oil-producing state in the U.S.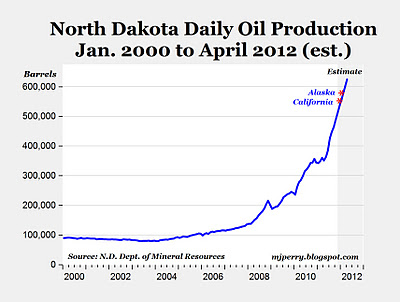 3. North Dakota currently boasts ten counties with jobless rates below 2% in October, but at the epicenter of the Bakken region in Williams County, home of the city of Williston, the jobless rate in October was an unbelievable eye-popping 0.9%, see chart below.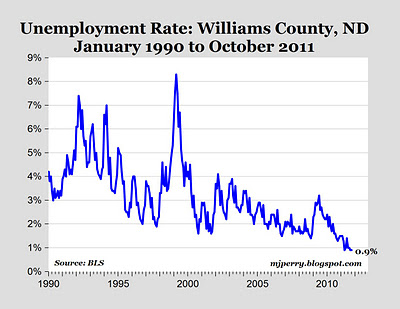 4. Moving east to the gas-rich Marcellus shale formation covering Pennsylvania, Ohio and West Virginia, the chart below shows the dramatic increases in domestic natural gas production over the last five years. After about a decade of stable gas production, the advanced fracking technologies starting becoming available about five years ago and boosted domestic gas production by almost 25% since 2006 (see chart below). The boom in unconventional shale gas made America the world's No. 1 producer of natural gas, when it passed Russia in 2009.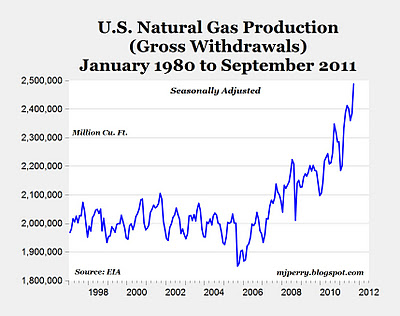 5. Thanks to the new abundant supply of unconventional shale gas in the U.S., we've now got access to a 100-year supply of the energy supply at the current consumption rates, and prices have dropped significant. The chart below displays the monthly inflation-adjusted price of natural gas back to 1997, and shows that the real spot price of gas is currently selling at close to a ten-year low, and is 70-80% below the peaks in 2001, 2006 and 2009. Additionally, gas prices over the last two years have been more stable than any two-year period since the late 1990s; so gas prices are not only close to historic lows adjusted for inflation, but are more stable than in more than a decade. It's the fact that gas prices are now both low and stable that makes it such an attractive source of energy for American manufacturers, which stand to gain significantly from lower energy prices. PricewaterhouseCoopers predicts that lower gas prices will contribute to one million U.S> manufacturing jobs being added by 2025. And residential consumers around the country are saving hundreds of dollars this winter, as utility companies in many areas have started to lower rates for piped natural gas.