The End of the Gold Bull
Gold took a beating Friday.
But this was more than just a sharp selloff…
Gold is now in a bear market. No, it won't hemorrhage $100 a day until it hits zero. But it will continue to trend lower once the shock of this initial downward push wears off. The great golden decade that saw prices leap from $300 to almost $2,000 is finished.
Here's how it all went down:
Huge sell orders started flowing into the market by mid-morning, pushing gold futures down $35 in a matter of minutes. By late Friday afternoon, gold was barely clinging to $1,480. If you're keeping track, that puts gold in "official" bear market territory — a 20% correction from its 2011 top.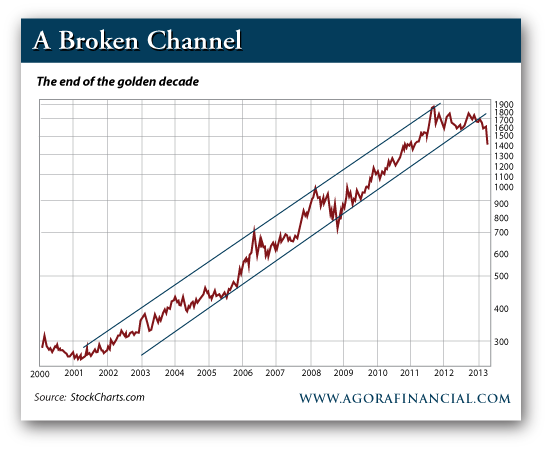 However, this push lower was only the beginning…
Panic took hold late Sunday evening. The reaction was swift and severe. By 6 a.m., the yellow metal had coughed up another $100, dropping it below $1,400 for the first time in two years.
You'll probably read plenty of news stories attributing gold's drop to events in Cyprus, China or some other world event. But in reality, the brutal selling was in reaction to the fall of a major support area near $1,550.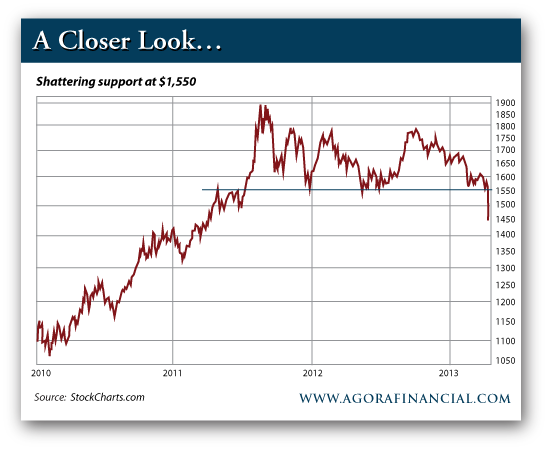 There's your catalyst. $1,550 was enthusiastically bought every time gold dipped since its 2011 top. When this critical support area broke, it was lights out. Sellers are now in control.
If you remain long gold, here's the ugly truth:
You must accept the fact that gold has entered a bear market. If you expect prices to snap back to $1,800, you're going to be waiting a long, long time. Also, you'll hear a lot about how gold is "oversold" after this huge drop. But it's too early for this type of analysis. Unfortunately, merely being "oversold" will not lead to a massive rally that magically pulls gold out of its slide. In fact, most bear markets begin with scale-tipping oversold readings. Stocks were massively oversold in summer 2008. That was not exactly the best time to be a buyer…
Here's what you should expect going forward:
In the short-term, gold could tread water between $1,350 – $1,450. My longer-term price target is between $1,000 – $1,100. This is where the metal consolidated immediately before and after the 2008 financial crisis before its 3-year push toward $2,000. Book it…
Greg Guenthner
for The Daily Reckoning
The End of the Gold Bull appeared in the Daily Reckoning. Subscribe to The Daily Reckoning by visiting signup for an Agora Financial newsletter.