Eleven Women Wearing the Same Mama-Bear Suit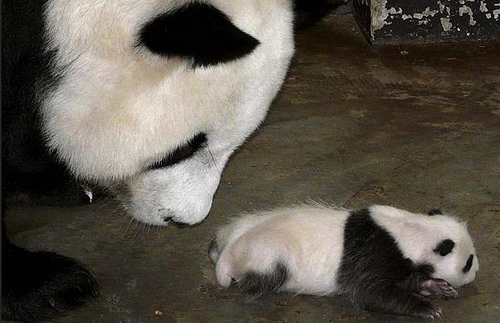 No, this is not a "Mama Grizzly." But I promised you pandas and pandas ye shall receive. cc photo from Flickr user beautifulcataya.
By Dara Lind
I wasn't persuaded by the argument Hanna Rosin put forward a couple of weeks ago that the tea-party movement was inspiring a new wave of women, particularly the working mothers Sarah Palin identified as "mama bears," to run for office. As E.G. of the Economist's Democracy in America blog pointed out at the time, there's a big difference between women getting involved in electoral politics on an organizational level, as most of the women in Rosin's article are, and women becoming candidates themselves. E.G.'s explanation:
I'm not especially impressed by the number of women who hold leadership positions in the party apparatus itself. You often see that in political parties—women are the county chair or are on the board or are holding the fundraisers. It's largely economic. Women are more likely to be at-home parents, to have wrested some flexibility from the workplace, to have a partner who makes more money than they do. That gives them the latitude to pursue what are, for the most part, volunteer commitments. If these jobs don't translate to more women being elected to higher office, what's the point?
(Incidentally, I think this phenomenon's actually a lot more pernicious than E.G. makes it out to be. Politics is a lot like, say, higher education or advertising insofar as there's a big difference between the people in "management" roles and the people who are respected as leaders in the field. Few students who want to go into academia say "Yeah, maybe I'll be a famous historian, but I really want to be a college dean!"; by the same token, most kids with political aspirations want to be like Barack Obama or Sarah Palin, not Tim Kaine or — heaven forbid — Michael Steele. The fact that women are getting sorted into administration instead of leadership indicates that the dynamics that keep women underrepresented in elected office and high-profile professorships are probably more complicated and harder to fix than they seem.)
When I read in Mark McKinnon's latest GOP press release Daily Beast column that "a record number of women — and Republican women" are running in this election cycle, however, I was ready to have my mind changed. Maybe Palin's "mama bear" meme and the tea party movement's anti-credentialist rhetoric really are encouraging women without backgrounds in politics to jump in!
If such women do exist, though, they're sure as heck not represented among the candidates Palin's endorsed as "Mama Grizzlies." Of the eleven women McKinnon profiles, six are currently holding elected office, with two others (an autism advocate and a Fox News analyst) professionally involved in national politics. If Rosin took the "mama bear" meme from Palin to describe the women she was inspiring to get into the fray, Palin takes it back to label a group of women who would still be involved in politics, and possibly even running in the races they're in now, if neither she nor the tea-party movement had existed.
Furthermore, two of the three "Mama Grizzlies" who don't have political backgrounds are Carly Fiorina and Meg Whitman. Fiorina and Whitman both got into their races by positioning themselves as experienced former CEOs whose business and management acumen would make them levelheaded, efficient officeholders. This isn't high on the list of Acceptable Personas for Women in Politics — a list already much shorter than its equivalent for men. (Not that I have much love in my heart for Republican CEO fetishism, but if they're going to do it they might as well let women in on the game.) By draping the "Mama Grizzly" label over a couple of politicians who really aren't portraying themselves as "mama bears" at all, just because they happen to have R's by their names and two X's in their genomes, Palin's doing her part to keep the ways we see women in politics limited to a few gendered archetypes.
The GOP could be celebrating the fact that it's now drawing women from a slightly broader range of backgrounds to run for office. But instead, its need to co-opt the Tea Party seems to be leading it to identify Fiorina and Whitman with a trope that women are getting into conservative politics because of their convictions, not their expertise. Meanwhile, the women who actually are getting motivated to get into conservative politics where they hadn't been before are getting shuffled into the administration of the tea party movement, just like their counterparts have long gotten shuffled into the administration of both major parties. One paw forward, two paws back.