Egypt clashes leave 72 dead, U.S. warns country to pull back from the brink
CAIRO, Egypt — Egypt's interior minister on Sunday pledged to deal decisively with any attempts to destabilize the country, a thinly veiled warning to supporters of ousted President Mohammed Morsi occupying two squares in Cairo in a month-long stand-off with the security forces.
The warning came as authorities said that the death toll in weekend clashes between Mohammed Morsi's Islamist backers and security forces near one of those sit-ins had reached 72, in the deadliest single outbreak of violence since the July 3 military coup.
"I assure the people of Egypt that the police are determined to maintain security and safety to their nation and are capable of doing so," Mohammed Ibrahim told a graduation ceremony at the national police academy. "We will very decisively deal with any attempt to undermine stability," said Ibrahim, who is in charge of the police.
Related

Military head calls for 'honourable' Egyptians to rally at same time as pro-Morsi demonstrations
Ibrahim's comments added pressure on Morsi's backers three weeks after the Islamist president was ousted in a military coup that followed days of street protests by millions calling on him to step down.
On Friday, millions again took to the streets in a show of support for Gen. Abdel-Fattah el-Sissi, the military chief who ousted Morsi. Those protests were in response to Abdel-Fattah's call for a mandate for him and the police to tackle what he called violence and potential terrorism.
Ibrahim, who had been appointed by Morsi, took an uncompromising stance in a news conference on Saturday, accusing the pro-Morsi side of provoking bloodshed to win sympathy and suggesting that authorities could move against the two main pro-Morsi protest camps: one outside the Rabaah al-Adawiya mosque in eastern Cairo and another in Nahda Square near the main campus of Cairo university.
He depicted the two encampments as a danger to the public, pointing to a string of nine bodies police have said were found nearby in recent days. Some had been tortured to death, police have said, apparently by members of the sit-ins who believed they were spies.
"Soon we will deal with both sit-ins," Ibrahim said.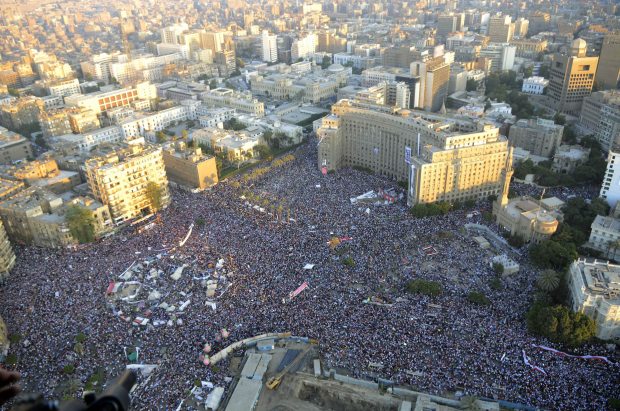 AP Photo/Hossam Diab, Egyptian armyIn this Friday, July 26, 2013, photo released on Saturday, July 27, by Egyptian army, opponents of Egypt's ousted President Mohammed Morsi demonstrate at Tahrir Square in Cairo, Egypt. Security forces clashed with supporters of Morsi early Saturday in an outburst of violence that put the possibility of political reconciliation in the deeply divided nation ever further out of reach.
On Tuesday, Khaled el-Khateeb, head of the ministry's emergency and intensive care department, said that beside the 72 killed in the Cairo clashes, eight were killed in clashes in the Mediterranean city of Alexandria also over the weekend.
A total of 792 people were wounded in both incidents, which spanned Friday and early Saturday, he said.
The Cairo violence took place when pro-Morsi protesters sought to expand their sit-in camp by moving onto a nearby main boulevard, only to be confronted by police and unidentified armed men in civilian clothes.
Civilians, sometimes with weapons, are frequently seen alongside police in Cairo demonstrations. In some cases, they appear to be police auxiliaries or plainclothesmen, in others residents who back the security forces.
Authorities concede that the vast majority of the dead in Cairo were demonstrators, but the Interior Ministry says some policemen were wounded and it is not clear if civilians who sided with police were among the dead.
The extent of the bloodshed pointed to a rapidly building confrontation between the country's two camps, sharply divided over the coup that removed Egypt's first freely elected president following protests by millions of Egyptians demanding he step down.
Officials from Morsi's Muslim Brotherhood and their allies decried what they called a new "massacre" against their side, only weeks after July 8 clashes with army troops in Cairo that left more than 50 Morsi supporters dead.
U.S. Secretary of State John Kerry said that he spoke to Egyptian authorities, saying it is "essential" they respect the right to peaceful protest. He called on all sides to enter a "meaningful political dialogue" to "help their country take a step back from the brink."
U.N. Secretary-General Ban Ki-moon also asked security forces to "act with full respect for human rights" and demonstrators to "exercise restraint."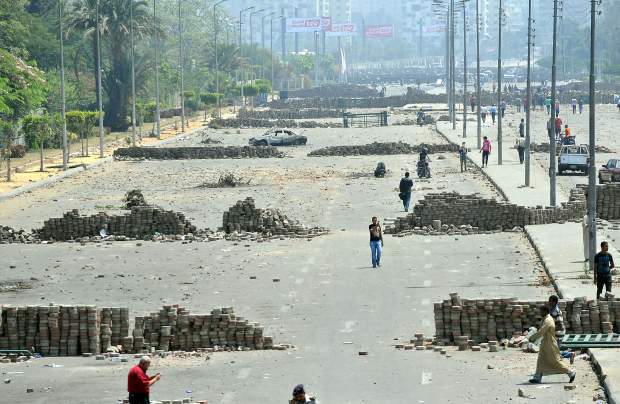 AFP PHOTO/FAYEZ NURELDINEFAYEZ NURELDINE/AFP/Getty ImagesA general view shows brick barricades erected along Nasr City's main street, a district of eastern Cairo, on July 28, 2013, as supporters of deposed president Mohamed Morsi continue to hold a sit in outside Rabaa al-Adawiya mosque demanding his reinstatement.
The U.N.'s human rights chief Navi Pillay issued also condemned the violence.
In a Sunday statement, she said: "Despite all the warnings, all the calls for restraint, more than 150 Egyptians have died during protests over the past month, not just in Cairo but in other cities as well," she said. "I fear for the future of Egypt if the military and other security forces, as well as some demonstrators, continue to take such a confrontational and aggressive approach. Supporters of the Muslim Brotherhood have the right to protest peacefully like anyone else."
Pillay called for a "credible, independent investigation" into the killings and punishment for those responsible. "Given what has happened in recent days, further protests are inevitable, and the onus is clearly on both the security forces and the protesters to ensure there is no repetition of yesterday's terrible and deeply tragic events."
Neither side in the Egyptian conflict, however, has shown much taste for reconciliation. Islamists staunchly reject the new leadership and insist the only possible solution to the crisis is to reinstate Morsi. Meanwhile, the interim leadership is pushing ahead with a fast-track transition plan to return to a democratically elected government by early next year.
Interim Vice-President Mohamed ElBaradei, a longtime pro-democracy campaigner who backed the military's ouster of Morsi, raised one of the few notes of criticism of Saturday's bloodshed.
"I highly condemn the excessive use of force and the fall of victims," he wrote in a tweet, though he did not directly place blame for the use of force. He added that he is "working very hard and in all directions to end this confrontation in a peaceful manner."
But the image of the Islamists as dangerous and not the peaceful protesters they contend they are has had a strong resonance. Over past weeks, there have been cases of armed Islamist Morsi backers attacking opponents — though the reverse also has occurred. Before Saturday, some 180 people had been killed in clashes nationwide.
Associated Press reporter Frank Jordan contributed to this report from Berlin, Germany.