Economic conditions improving
Last week's data suggest that the U.S. economic recovery is continuing to gain some strength.
On Wednesday the Institute for Supply Management announced that its PMI manufacturing composite index rose to 54.1 for January, its highest value since June. A reading above 50 signals that more establishments experienced improvements than saw deterioration in key measures during January, and a value above 52.7 is a weak indicator of above-average real GDP growth. ISM's non-manufacturing index came in with an even stronger reading of 56.8.
Manufacturing PMI. Source: Calculated Risk,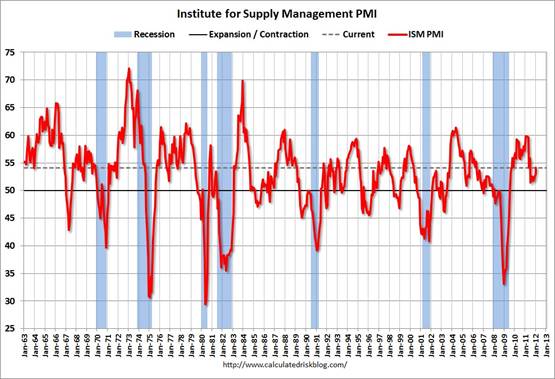 Auto sales, another key cyclical indicator and early barometer for the economic effects of higher oil prices, were back up in January to the levels associated with the early months of the 2007-2009 recession. Four years ago, those levels were a drag on the economy, but compared to what we saw over the subsequent four years, they don't look so bad.
Source: Calculated Risk,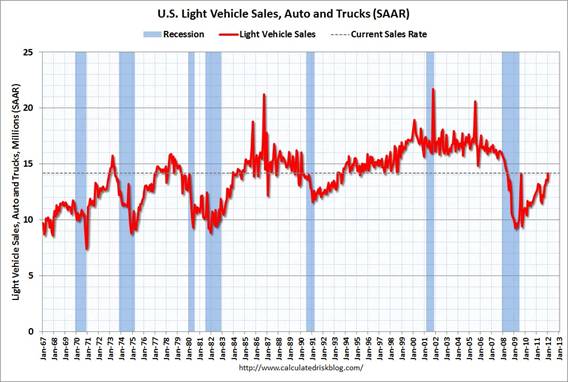 The most important monthly indicator is the BLS estimate of the number of Americans on nonfarm payrolls, which was up by 243,000 workers on a seasonally adjusted basis in January. The BLS estimate of the unemployment rate also continued to improve, falling to 8.3% in January. The 0.8 percentage point drop in the unemployment rate since August is somewhat surprising-- usually we'd expect to see stronger growth in real GDP and in nonfarm payrolls than we have in order to realize that much improvement in the unemployment rate.
Source: FRED,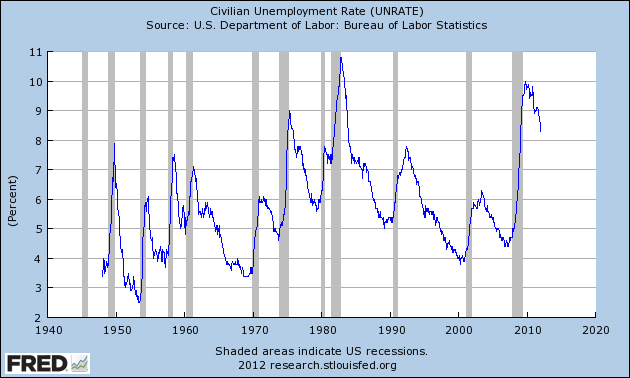 The unemployment numbers come from a BLS survey of households that is completely separate from the survey of establishments on which the nonfarm payroll numbers are based. The household survey also produces its own measure of total employment, which is generally regarded as less reliable than the establishment-based estimate, though sometimes the household survey has been a little quicker to recognize cyclical turning points. To get employment numbers from the household survey, one needs not just the employment rates among respondents, but also separate estimates of the population. Each January the BLS updates its population estimates, this time incorporating an assumed population that is 1.5 million larger than that used for December. The result is that the reported December-to-January changes in certain categories were huge because they imputed to a single month some changes that in fact accumulated over the year. This led some commentators to misinterpret the January labor force report, a point clarified by Bonddad Blog and Calculated Risk.
It's worth noting that the BLS also reports an estimate of what the December-to-January change in employment would have been based on the household survey if there had been no population adjustments. That number turns out to be a monthly gain of 631,000 jobs-- a significantly more bullish estimate than the nonfarm payroll number.
But even if we ignore the household survey altogether, it is accurate to say that things are looking better than they did a week ago.