Earnings Scorecard: Molson Coors Brewing Co.
Zacks.com submits:
Molson Coors Brewing Co. (TAP) reported second-quarter earnings on August 3, 2010 that surpassed the Zacks Consensus Estimate in the wake of net sales growth, increased equity income from MillerCoors, favorable currency translation and a lower effective tax rate. This was partially offset by higher marketing and administrative expenses. Analysts have had more than a week to digest the news. Below, we cover the recent earnings announcement, including the subsequent estimate revisions by analysts and the Zacks ratings for both the short and the long term. Earnings Review Molson delivered earnings (excluding certain one-time items) of $1.25 per share, exceeding the Zacks Consensus Estimate of $1.19 by 5% and the year-ago earnings of $1.11 by 12.6%. On a reported basis, earnings (including one-time items) jumped 25.7% to $1.27 per share, compared with $1.01 in the year-ago quarter, on the back of higher net income and a mark-to-market gain on the company's Foster's-related swap. Net sales grew 10.6% to $883.3 million from $798.9 million in the year-ago quarter. Revenues also surpassed the Zacks Consensus Estimate of $874 million. Overall beer volumes slipped 0.7% year over year to 13.4 million hectoliters. The company's Canadian segment volumes grew 2.6% to 2.46 million hectoliters, while the U.K. segment was essentially flat at 2.49 million hectoliters. Earnings Estimate Revisions – Overview Molson Coors' favorable currency translation, rational pricing strategy, easier comparisons, improving mix and healthy cash flow continue to bolster earnings growth. Agreement of Estimate Revisions In the last 7 days, two of the 9 analysts following the stock raised their estimates while one lowered for the third quarter of 2010. With respect to fiscal 2010, four out of 11 analysts lifted their estimates in the last 7 days. Molson's healthy balance sheet and cost saving programs complement its investment in brands and innovation, ensuring that it is well established to capitalize on growth opportunities and economic improvement. However, the high unemployment rate and slow global recovery continue to be major headwinds for the company.

Magnitude of Estimate Revisions The magnitude of estimate revisions indicates that analysts were inspired by Molson Coors' second-quarter results. In the last 7 days, the Zacks Consensus Estimate moved up by 4 cents for fiscal 2010 and 2 cents for fiscal 2011. In the last 7 days, the Zacks Consensus Estimate remained stagnant for the third and fourth quarters.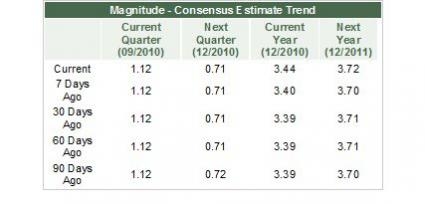 Zacks #3 Rank Shares of Molson Coors Brewing maintain a Zacks #3 Rank ('hold'), which translates into a short-term Hold recommendation. Our long-term recommendation for the stock remains Underperform. Rational pricing strategy, easier comparisons, improving mix and the ability to generate healthy cash flows ensure that the company is well-positioned to take advantage of growth opportunities and drive exceptional performance as economic conditions improve. MillerCoors, a joint venture of Molson Coors and SABMiller plc., continues to achieve incremental synergies and is established as the #2 brewer in the U.S. Based in Denver, Colorado, Molson Coors' susceptibility to the global economic downturn and operations predominantly in mature, low-growth markets are adversely affecting its top-line potential. The continuing global economic downturn has compelled customers to reduce discretionary spending and prefer lower priced brands over premium ones. This is especially a matter of concern for the company as its business strategy is focused on premium and above-premium offerings.Complete Story »