A Dutch MP who faces hate speech charges could have his popularity boosted by the trial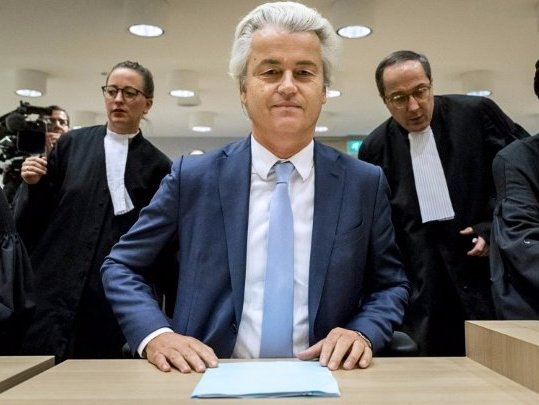 AFPThe Hague (AFP) - Dutch judges on Friday hand down their verdict in the closely-watched hate speech trial of populist MP Geert Wilders, with experts saying a conviction will simply embolden the anti-Islam politician ahead of elections next year.
Prosecutors are seeking a 5,000-euro ($5,300) fine for the firebrand far-right politician, who faces charges of insulting a racial group and inciting racial hatred after comments he made about Moroccans living in the Netherlands.
The verdict falls three months before general elections, for which Wilders is currently topping the polls ahead of Prime Minister Mark Rutte's Liberals.
Amid a string of populist victories in Europe and the November election of Donald Trump as the next US president, the outcome of the Dutch vote will be keenly watched.
The three-week trial of Wilders focused in particular on a statement made at a March 2014 local government election rally in The Hague, when he asked supporters whether they wanted "fewer or more Moroccans in your city and in the Netherlands".
When the crowd shouted back "Fewer! Fewer!" a smiling Wilders answered: "We're going to organise that."
Observers say rather than hurting the controversial lawmaker, his trialhas boosted his popularity among Dutch voters, worried about the influx of immigrants and driven by eurosceptic sentiments.
Wilders is already eyeing the premiership and the latest polls on Sunday said his far-right Freedom Party (PVV) would win 34 seats in the 150-seat lower house, putting it 10 seats ahead of Rutte's ruling Liberals -- its nearest rivals, who govern in a coalition.
'Children are afraid'
Prosecutors told a three-judge bench they dragged Wilders to court because "racist remarks need to be stopped" after police received 6,400 complaints about his comments.
Such remarks "affect human dignity to the core. It touches upon their (Moroccans') right to exist," Wouter Bos told the trial held at a high-security courthouse near Schiphol airport.
Throughout their case, prosecutors quoted numerous examples of Dutch-Moroccans who said they felt like "third-rate citizens" and that even "children are afraid" because of the politician's statements. Wilders boycotted most of the high-profile trial, but frequently tweeted his opinions.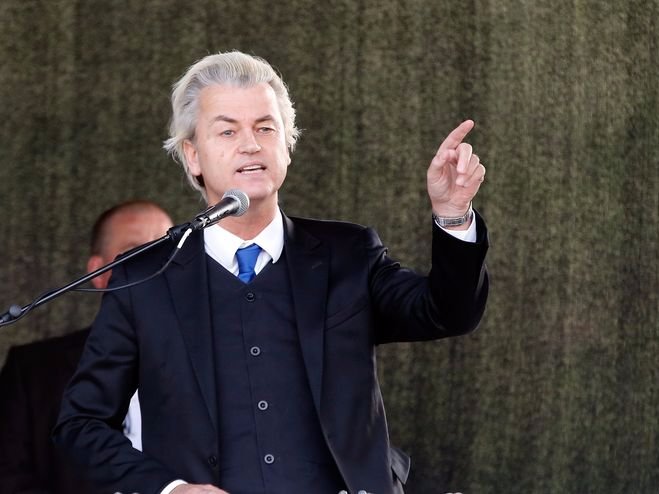 AFPOn the last day, he finally appeared in the dock and remained unapologetic, saying if he is found guilty "millions of Dutch citizens will be convicted with me".
The 53-year-old politician, with his trademark peroxide hair, said neither he, nor his supporters were racists, but were rather people "who want their country back and who are sick and tired of not being listened to."
"It is my right and my duty as a politician to speak about the problems in our country," he said.
Wilders also accused prosecutors -- whom he referred to as government "puppets" -- and opposition politicians of directing a "political process" against him ahead of the March 15 polls.
Election 'gift'
If elected as the lowlands country's new prime minister, Wilders has vowed to confiscate Korans, close mosques and Islamic schools, shut Dutch borders and ban migrants from Islamic countries among a raft of other anti-Islamic moves.
His views have seen him receive death threats including from terror groups such as the Islamic State group and al-Qaeda. He is guarded at all times and called the "best protected man in The Netherlands". Observers say that far from harming Wilders, a conviction and a small fine would actually boost his image.
"It's a gift to him so close to the elections," said political analyst Andre Krouwel of the Amsterdam Free University. If he is convicted, "he'll be able to play the victim of the regime and the establishment and how they're 'trying to put him down'," Krouwel told AFP.
Joost van Spanje, associate professor at the University of Amsterdam said "the worst-case scenario for Wilders is an acquittal."
"The worst thing that can happen is for him to lose this publicity -- which most other politicians have to pay for," he said. "Either way, for him it's a win-win situation."
NOW WATCH: In the 1970s the CIA created a spy drone the size of a dragonfly