Donovan Mitchell dons a Vince Carter jersey and beats Larry Nance Jr to win Slam Dunk Contest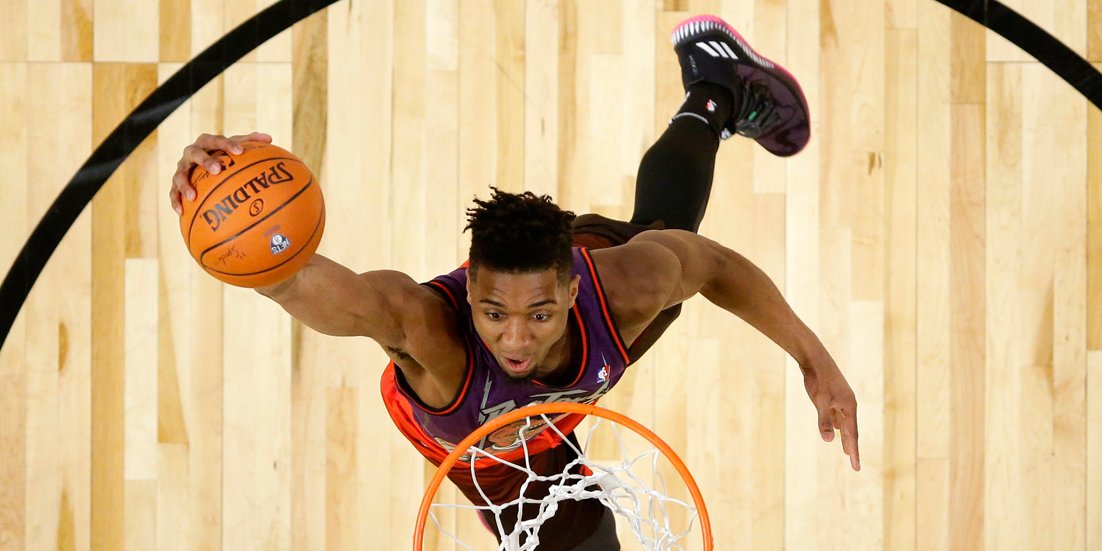 Bob Donnan/Pool via AP
Donovan Mitchell took home the 2018 Slam Dunk Contest trophy on Saturday night, beating Larry Nance Jr. in the final round.
Mitchell paid homage to Vince Carter with his final dunk of the night, donning his jersey and matching one of Carter's iconic dunks.
Mitchell was the cleanest dunker of the night, but some would likely argue that Nance Jr. pulled off the most difficult dunk of the night, nailing an absolutely ridiculous "double tap" dunk in the finals.
Donovan Mitchell won the 2018 Slam Dunk Contest on Saturday night, with two of his four dunks earning a perfect score from the judges.
Mitchell started the night off with a bang — bringing out another hoop to throw an impressive alley-oop to himself.See the rest of the story at Business InsiderNOW WATCH: Why North Korea sent hundreds of cheerleaders to the OlympicsSee Also:
The Cavs GM reportedly had an honest sit-down with LeBron James before blowing up the roster during the frenzied trade deadline
LeBron James said Trae Young 'better go pro' and likened the upcoming decision to waking up or brushing teeth
Steve Kerr let the Warriors players coach themselves because they were tired of his voice — and they won by 46
SEE ALSO: The top 30 prospects of the 2018 NBA draft