Donald Tusk to be re-elected at the head of the EU council despite stark Polish opposition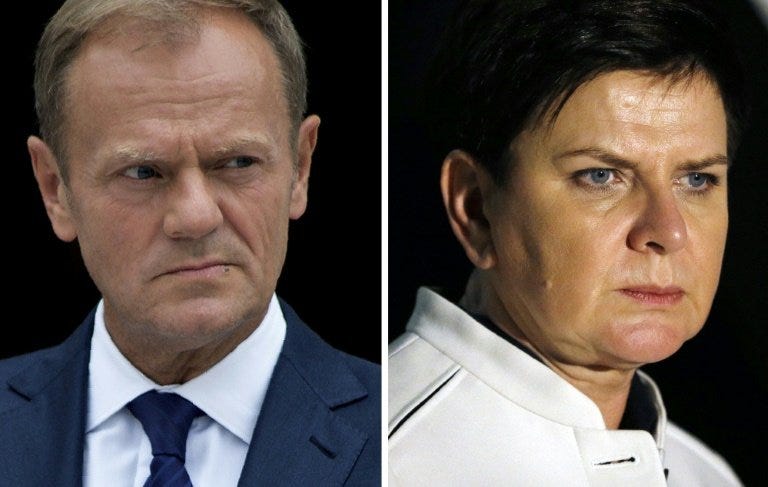 AFP / Ahmad Gharabli / Paulo Nunes Dos SantosBrussels (AFP) - EU leaders are set to ignore bitter opposition from Warsaw and re-elect Poland's Donald Tusk as the bloc's president Thursday in a row that underscores the difficulties of post-Brexit unity.
A summit that was meant to focus on plans for the future after Britain leaves has instead become mired in a Polish political drama with wider implications for looming east-west splits in the European Union.
The row threatens to overshadow talks on the economy, defence, and unrest in the Balkans on Thursday, and then on Friday, without British Prime Minister Theresa May, on preparations for a summit in Rome on March 25th to mark the 60th anniversary of the EU's founding treaty.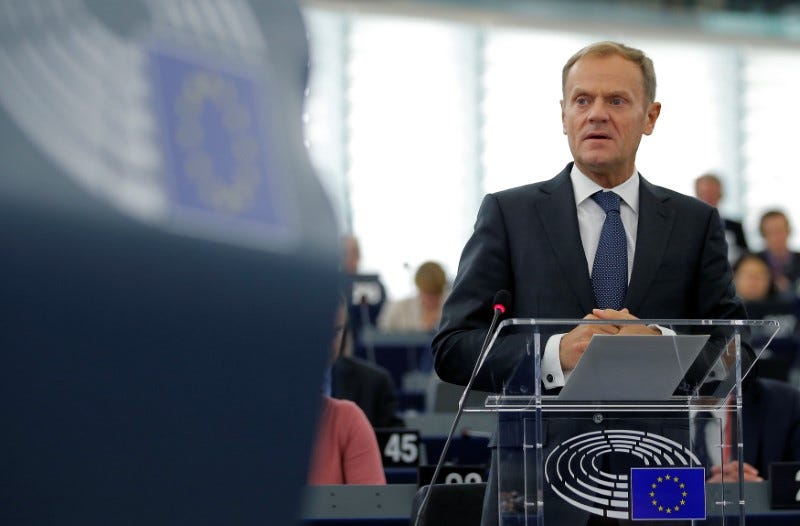 Thomson Reuters
Leaders had hoped to rubberstamp former Polish prime minister Tusk's new term after his current mandate runs out in May, but a government guided by his long-term domestic foe put forward a surprise rival candidate.
Poland appears to have won no support, but the other leaders will still be keen to avoid a public bust-up with the EU's biggest post-communist state just weeks before the bloc enters its seventh decade.
Tusk said he was "ready for this judgement" by the 28 leaders but rejected criticism by Poland's right-wing prime minister Beata Szydlo that he had "brutally violated" his job's supposed political neutrality.
'Impartial and neutral'
"I am not the one responsible (for the) clashes," Tusk said on the eve of the summit in Brussels. "I am, and I should be also in the future, impartial and politically neutral."
Poland's eurosceptic government, which has repeatedly clashed with Brussels in recent months over the rule of law, on Saturday stunned the EU by nominating Euro-MP Jacek Saryusz-Wolski instead of Tusk.
Tusk has been a long-term foe of the head of the governing Law and Justice party, Jaroslaw Kaczynski, who has accused the centrist former premier among other things of "moral responsibility" for his twin brother's death in a plane crash in Russia in 2010.
But Germany said on the eve of the summit there was "overwhelming support" for Tusk, while European diplomats accused the Polish government of "wanting to export an internal problem."
"I hope we will find a choreography that will allow Mrs Szydlo to express her views without disturbing the process," one diplomat said on condition of anonymity.
The Tusk issue nevertheless highlights a growing split between the older, western EU nations led by Germany and France and the poorer, newer countries in the east that used to be under the Soviet yoke.
'Multi-speed' split
Divisions have emerged over whether plans for a major declaration on the bloc's next 10 years, to be made at the Rome summit, should include a mention of plans for a so-called "multi-speed Europe."
The leaders of the EU's post-Brexit "big four" — Germany, France, Italy and Spain — used a summit in Versailles on Monday to back plans for countries to choose at which speed they integrate on key issues.
But eastern countries in particular fear this will lead to a virtual apartheid system where they are left behind on issues like the euro currency, the economy and defence while the major powers push ahead.
There are also divisions over migration, with the eastern bloc fearing their attempts to offer to pay instead of sharing the burden of Europe's migrant crisis could be used to cut the substantial funds they get from Brussels.
Leaders fear the split could distract from attempts to use Rome to give birth to a new Europe after Brexit, in the face of growing populism, uncertainty over US President Donald Trump and an aggressive Russia.
Tusk insisted on Wednesday that "the anniversary will be a moment for reflection and unity, but also a moment to set the direction of the EU for the decade to come."