Donald Trump is not the first person from the West linked to sex and spies in the old Eastern Bloc
President-elect Donald Trump is being buffeted by unsubstantiated reports that, in recent years, he has been behaving badly in a Moscow hotel room. How badly? Imagine prostitutes cavorting — and peeing — on a bed of the presidential suite at the Moscow Ritz, for the viewing pleasure of Trump. And Russian authorities secretly watching Trump watching the whole spectacle. That, plus the odd sex-party in St. Petersburg.
The allegations of Trump romping around with foreign hookers have not been confirmed and, according to reports, they may be entirely unverifiable. But some of the themes they reflect — in a world of international intrigue and espionage and digging dirt on your opponents for future blackmailing purposes — are as ageless as, well, tawdry sex itself.
Trump's not the first person to be linked to sex and spies in the old Eastern Bloc. The KGB, forerunner of the FSB, operated spy schools in Russia throughout the Cold War. Female recruits were trained to view their sexuality as a weapon, and to use it in the service of the state. Russian spymasters believed that Westerners were lacking in self-control, and that a pretty face could be even more potent than a loaded pistol. And it turns out they were right. Below, three dupes whose careers were undone by a brush with a beautiful person.
The Lovesick U.S. Marine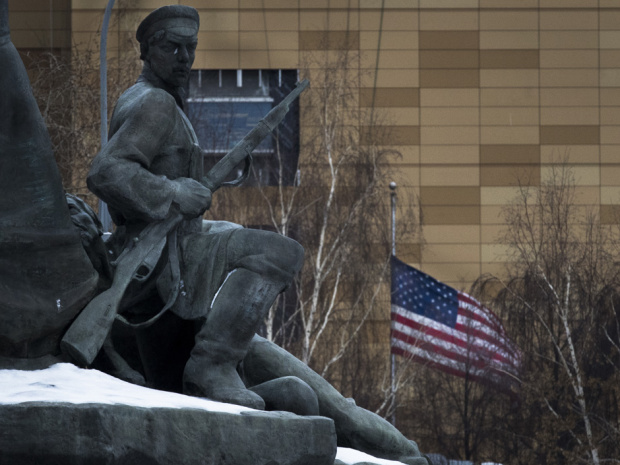 Alexander Zemlianichenko / Associated PressThe U.S. Embassy with its national flag, see behind a monument to the Workers of 1905 Revolution in Moscow, Russia, Friday, Dec. 30, 2016
Clayton Lonetree played high school football before becoming a United States Marine. He wasn't a great player, he was average, at best. But Lonetree was a hard worker and his father, Spencer, imagined that his son would make a good politician, some day, and that serving his country would be a first step to achieving that dream. Lonetree, an American Indian, was assigned to the American Embassy in Moscow as a guard. His Marine Corps instructors warned him about fraternizing with any Russians, including those who worked inside the embassy. But several of Lonetree's Marine buddies were already dating Soviet women. And Lonetree was lonely. And, then, there she was: Violetta Seina.
Violetta was a translator at the embassy. Violetta was 26-years-old and single. Violetta was tall, with shoulder-length brown hair and gray eyes. Lonetree invited Violetta to the Marine Corps Ball. It didn't seem all that unusual. Other Americans had Russian dates. Violetta warned Lonetree that the KGB might be watching her. But Lonetree persisted. After three months, the pair became lovers, and, soon after, Violetta's "Uncle Sasha" entered the picture. Uncle Sasha asked Lonetree innocuous questions about his life, and about being an American Indian. Over time, he began asking deeper questions, about life at the embassy.
Lonetree would later admit that he knew then that Uncle Sasha was a KGB operative. But he was in love, after all, and if he told his superiors what was going on he feared they would bar him from seeing Violetta. Lonetree was eventually transferred to the embassy in Vienna. Uncle Sasha followed him them, bringing a parcel of love letters from his beloved Violetta. Lonetree eventually gave Uncle Sasha a floor plan of the embassy. He began drinking heavily. He was in over his head. In December 1986, Lonetree told the CIA station chief in Vienna what was going on. The disgraced marine would spend nine years in prison. (Violetta sent him messages there.) Lonetree was released in February 1996. Violetta's whereabouts are unknown.
Related

When the translator met her Romeo
Gabriele Kliem was a translator at the U.S. Embassy in Bonn, West Germany. It was 1977. The Cold War was at its deepest freeze. Spies moved from East Germany to West and back, obtaining secrets – and choosing targets to extract them from. Kliem was an easy mark for Frank Dietzel. Dietzel looked like "Robert Redford," to Gabriele Kliem, who was sitting on a bench near the Rhine when a tall man with blond hair and blue eyes came ambling towards her.
"He looked like my dream man," she would later recall. "I fell in love the minute he came towards me." Dietzel was handsome and charming and worked, he told Kliem, as a physicist with an international peace organization. Kliem loved him instantly. She loved him blindly. And when he asked if he could see some documents from her work at the embassy — so that he could pass them on to his peace group and help keep the world safe — she agreed. And she kept agreeing to her lover's requests for the next seven years. Some of the information Kliem passed along to a man who would turn out to be an East German operative would include training schedules for tanks and guns. Eventually, the relationship fell apart. Gabriele met another man. She got married. In 1991, her betrayal came to light. The former translator was eventually given a two-year suspended sentence and fined. Kliem was last reported to be living in a quiet village in the Netherlands with 11 dogs.
The Naughty British Politician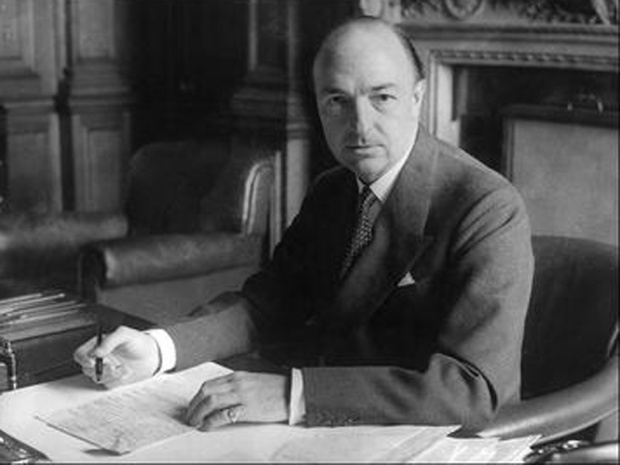 WikipediaJohn Profumo, 1960
John Profumo was a veteran of the D-Day landings, a former tank commander, the son of a Baron and a politician of impeccable standing in British Prime Minister, Harold Macmillan's, cabinet in the early 1960s. Profumo, the old soldier, was Secretary of War. He was balding, and trim, with a weak chin. He was a regular at fancy parties. Christine Keeler was a 19-year-old model.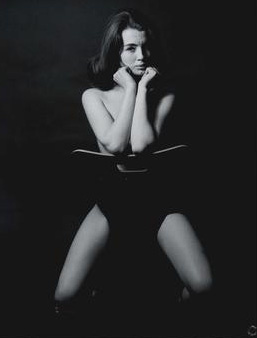 WikipediaLewis Morley's 1963 portrait of Christine Keeler
She had been a topless dancer in London, and came from a poor family. The young model and the not-so-young politician met at a party at Cliveden, near London. The home belonged to Lord Astor. Charlie Chaplin had once stayed there. (The Beatles would later film part of the movie, Help, at the home). Profumo and Keeler saw each other near the pool. The attraction was instant. They had an affair, a torrid, two-week-love-turn that, for Profumo, turned out to be not such a good idea after it was revealed that the model was also sleeping with Yevgeny Ivanov, a Russian spy. Profumo had to assume that any pillow talk between he and Keeler — and there is no evidence that he shared any scintillating state secrets with the young model — would later be related to a Russian agent. The scandal hit the British press. Profumo resigned from office in 1963. He joined a foundation and spent the rest of his life working with the poor, an act of penance that would help restore his public reputation. Profumo died in 2006, having never spoken publicly of the affair that destroyed his career.