Donald Trump to hold his first press conference since July, when he said he 'hoped' Russia had more Clinton emails
The last time Donald Trump held an official press conference, the Rio Olympics had yet to start.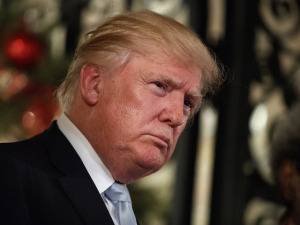 Evan Vucci / Associated PressPresident-elect Donald Trump on Dec. 28, 2017
Leonard Cohen was alive, Westworld had yet to air and Bob Dylan had yet to become a Nobel laureate.
There were still over three months left in the 2016 presidential election when Trump last faced a full court media press. It was also a Wednesday, but 24 weeks ago, or 168. (This is excepting bizarre and brief remarks he made to the press shortly before New Year celebrations while he was visiting his Mar-a-Lago estate in Florida).
Later this morning, amid titling and veritably unverifiable allegations, Trump is expected to once again take the media's questions.
The last time he spoke, he said he "hoped" Russia had more of Hillary Clinton's emails and would release them. This time around, a leaked and potentially specious report suggesting Trump's campaign not only new Russia had "kompromat" (potentially damaging intelligence) on Clinton, but conspired to work with the Kremlin to erode her changes at winning the presidency. Oh, and the document published by Buzzfeed looks like it was made on Word 2011 also suggests Trump hired prostitutes in St. Petersburg to pee on a hotel bed where President Barack Obama and First Lady Michelle Obama had slept.
The president elect has already tweeted a defence of sorts, as he's so often won't to do, calling the story "Fake News" and citing the fact Russia has denied the allegations.
I win an election easily, a great "movement" is verified, and crooked opponents try to belittle our victory with FAKE NEWS. A sorry state!
— Donald J. Trump (@realDonaldTrump) January 11, 2017
Intelligence agencies should never have allowed this fake news to "leak" into the public. One last shot at me.Are we living in Nazi Germany?
— Donald J. Trump (@realDonaldTrump) January 11, 2017
Trump's silence is historic — he's the first president-elect in modern times to have avoided a press conference for the remainder of the year following his victory. And he's not alone, lest we forget Clinton herself avoided press conferences for months at a time during the campaign.
How Trump approached the potentially explosive press conference could bely how the next four years of his presidency play out. There have already been scuffles over the fact he has dodged the traditional pool reporter, who tails the president at all times, and his reticence to take questions and instead exercise his Twitter fingers has many wondering if he will eschew the decades-old tradition of White House presidential press conferences.
Then there's the question as to whether Trump will even keep his 11 a.m. date with the press, but if he does, here's what to watch for:
Russia looms large
The big story of the day will likely lead the press conference, especially after months of speculation about the Kremlin's role in the 2016 election. Remember, the report is just the latest twist in a saga that has already seen Trump denounce the U.S. intelligence establishment after he was presented with a report about Russia's influence in the election. His incoming chief-of-staff Reince Preibus has said Trump "accepts" those findings, but it will be interesting to see if the president elect admits as much to the press.
Can Trump act like president?
Trump has had a bizarrely adversarial relationship with the press, but then he seems to warm any time an editorial board invites him to sit down, appearing to need to be liked by even his harshest critics. Will his temperamental reaction to tough questions show through or will the man who will soon command the largest army in the world show he does, after all, have a calm, cool and collected side?
On the flip side, how hard will reporters present go? Will months of frustrated energy come pouring out? Or will they too try to dance lightly lest the president-elect storm off before taking their questions?
Related

Trump and Obama briefed on unsubstantiated reports that Russia could have blackmail material on incoming president
Despite anti-nepotism laws, Donald Trump son-in-law Jared Kushner to take senior White House role
'Aren't you supposed to be running the country?': George Clooney defends Meryl Streep's anti-Trump speech
Will he clarify his business interests?
Trump has said he will divest from his family business, but has been vague about the details. Will he finally elaborate as to how he will avoid the ethical pitfalls of owning a multinational corporation while holding the most powerful office in the world?
How will he react to Congress delaying his Cabinet confirmations?
Trump has already tussled with congressional leaders in a rare ethical move to call on them from gutting a key watchdog's office. But now that Congress has announced it will delay confirmation hearings for some of his Cabinet picks — some of whom have yet to be vetted by the FBI — how will he react to Congress delaying their confirmation hearings? Will he address the ethical and security concerns about many of his nominees?
And will he pushback against high-ranking Republicans like Senator Lindsey Graham who want full hearings into Russia's alleged influence in the election?
Will we hear about any policies at all?
So much of the process surrounding Trump's pending presidency has dominated the narrative few of his policies have seen substantial coverage in recent weeks. We've heard about how few celebrities want to be a part of his inauguration, whether there are enough dresses in Washington for anyone who actually wants to go to the ball (there are), the nepotism of his plans to appoint son-in-law Jared Kushner a senior adviser and the many issues that could scuttle some of his Cabinet picks. What we haven't heard much about is what Trump wants those Cabinet picks to actually do. With so many other issues pressing — including not a few allegations of treason by the incoming president and his campaign — it's unlikely policy will dominate the day, but with Trump as always you never really know.