Do conservatives care about the deficit? Do Democrats?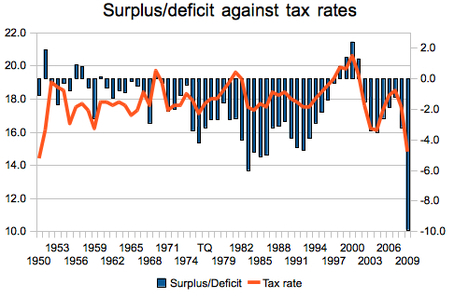 Matt Yglesias asks the question and assembles some evidence. The two modern conservative presidents, George W. Bush and Ronald Reagan, "both presided over massive increases in both present and projected deficits." The most important deficit reduction packages of the modern era, the 1990 and 1993 efforts, "were both uniformly opposed by the conservative movement." The deficit commission is being run by the executive branch because Republicans killed its congressional incarnation under the theory that it might, as part of a balanced deficit-reduction package, recommend tax increases. The conservative movement backed its leaders on all of these measures.
I'd add one more point: In the 2000s, Republicans remade the budget reconciliation process so it could be used to increase the deficit. When Democrats took power, they passed a rule saying that reconciliation needed to reduce the deficit. That is to say, they constrained themselves for the sake of deficit reduction, where Republicans unharnessed themselves from rules meant to limit the debt. That's how the tax cuts were passed under budget reconciliation, while health-care reform had to yoke itself to unpopular taxes and Medicare cuts in order to use the same process. How political movements act during moments of maximum power and political accountability matters.
What we can say from this, at the least, is that there's no evidence conservatives care about deficits when they're in the White House. There's some evidence from the Gingrich era that when Republicans control Congress against a Democratic president, they get serious about deficits. But deficit reduction holds an honored place in the opposition party's playbook, as it constrains the majority party's ability to do anything proactive. So I'm only giving partial credit for that. When they have the power and will have to shoulder the blame, they've increased deficits.
There's also a lot of evidence that conservatives care much more about lowering tax cuts than they do about the deficit. Mitch McConnell's supply-side nonsense aside, those two goals are in direct contradiction, at least if you're not willing to offset your tax cuts with spending cuts or tax increases. And the Republican Party, as Jon Kyl said this week and Reagan and Bush both proved, is not.
By contrast, there's an increasing amount of evidence that Democrats -- and yes, I mean to move from describing ideology to describing party -- do care about the deficit. Clinton passed unpopular and difficult tax increases and spending cuts into law. In 1993, he did it with no Republican votes. Democrats lived under PAYGO rules in the '90s, and after Republicans lifted them in 2002, reestablished the rules when they retook Congress. Democrats strained to make health-care reform deficit neutral, while Republicans made no effort to craft the Medicare Prescription Drug Benefit as deficit neutral. Democrats have used the budget reconciliation process only for bills that reduce the deficit, while Republicans recast it to apply to bills that increased the deficit. In fact, aside from stimulus spending, which increases the deficit by its very nature, I don't know of a major domestic initiative from either Obama or Clinton that hasn't been either deficit neutral or deficit reducing. Maybe my readers will enlighten me.
There's also some evidence that moderate Republicans care about the deficit: George H.W. Bush passed a difficult budget that increased taxes and cut spending, and moderate Republicans have limited the size of both Democratic and Republican initiatives. I wouldn't overstate the consistency of this camp -- many of them supported the deficit-busting Medicare Drug Benefit but opposed the deficit-reducing Affordable Care Act -- but there's evidence that they do think about it.





United States - George W Bush - Republican - President - Mitch McConnell