Diverse Representation Without Gerrymandering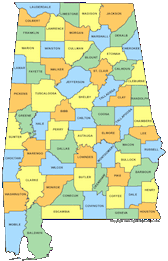 Stuart Taylor, Jr's attack on race-conscious congressional districting would be easier to take seriously if he evinced any real sympathy for the idea that it's good to have some non-white folks in the congress. The way to do that would be to propose some alternative to racial gerrymanders. And fortunately, there's an easily available alternative. Instead of having 7 variously gerrymandered congressional districts, a state like Alabama could simply elect seven House members via single transferrable vote.
In larger states you'd need something a bit more complicated—break a state down into two or three or four large multiple-member districts. Either way the point is that you wouldn't get a state that's 35 percent black sending a lilly-white congressional delegation unless race some day stopped being a significant influence on political preferences.
The way the current Voting Rights Act stands, it seems likely that states wouldn't be allowed to do that. It would, however, be relatively easy to fix the legislative language in order to make multi-member districts a way for states to meet their VRA requirements. Whether state legislatures would actually take advantage of that opportunity, I couldn't say, but I think it would be a big improvement to the American political system for a variety of reasons of which handling the minority representation issue better is just one. The only real downside is that since it's unfamiliar to Americans who've never voted in a Cambridge, MA city council election, initial implementation of STV would probably confuse a lot of people. That said, jurisdictions that use STV work just fine and I'm pretty sure the American people would figure it out after a cycle or two.
At the end of the day I think this reform has a lot more promise than much-hyped proposals to curb gerrymandering through special councils and panels and such.