The Disparate Racial Impact Of a Poll Test
Duncan Black is more sanguine than I would be about the full implications of Newt Gingrich's proposal to revive poll tests of the sort barred by the Voting Rights Act:
I think they're a horrible idea for a variety of reasons, though I do think honestly administered poll tests (not that they would be) wouldn't necessarily have all that big of an impact on the racial distribution of people who could actually vote.
I think that's wrong. It's important to return to Gingrich's exact words:
I always say that to become an American citizen, immigrants ought to have to learn American history. But maybe we should also have a voting standard that says to vote, as a native born American, you should have to learn American history. You realize how many of our high school graduates because of the decay of the educational system, couldn't pass a citizenship test.
What he's saying here is that he wants to implement a test that woud be difficult enough for some non-trivial share of the American public to be disqualified, specifically the graduates of low-performing high schools. And it's no secret that African-Americans and Latinos are disproportionately concentrated in said schools. And, indeed, the 2006 History NAEP shows significantly lower scores for blacks and Hispanics: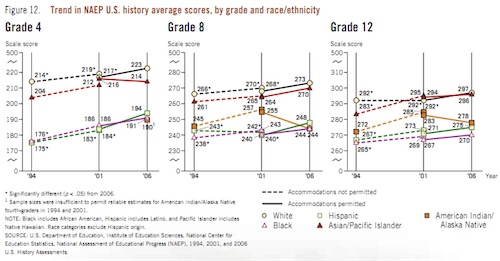 (click for larger image)
Now I suspect that part of the racial politics here is that Gingrich wants me to point this out so that he can go snigger about how liberals now admit that black people are dumb. But the reality is that it's just as Gingrich said in his talk—we have a lot of problems with poorly performing schools in the United States. It's also true that African-American and Latino kids disproportionately attend those schools. And that means that if you apply a test-based criteria for citizenship, you're going to get many fewer voters from non-white households. This would be a great way of dealing with the medium-term demographic challenges facing the part of white people, but it's also repugnant.