Despite being blasted by Apple and dozens of others as 'anti-gay,' Indiana Governor stands by controversial law
Indiana Governor Mike Pence denounced as "shameless rhetoric" criticism of a new state law aimed at protecting religious liberty that opponents say allows discrimination against gays.
Defending the law that has triggered widespread criticism from businesses and gay-rights advocates, the Republican said he would be willing to consider an amendment that "clarifies what the law really is," while vowing to fight substantive changes.
"We've been under an avalanche of intolerance and I'm not going to take it lying down," Pence said Sunday on ABC's This Week program. "We're not going to change the law."
The Religious Freedom Restoration Act, signed by Pence on Thursday, says the state can't "substantially burden a person's exercise of religion." Critics say the measure would allow businesses to discriminate against gays and lesbians because Indiana doesn't recognize them as a protected class.
Angie's List Inc., the consumer-review website, on Saturday withdrew a proposal to expand its Indianapolis headquarters, a planned $40 million investment, days before it was to break ground.
Technology-industry leaders including Apple Inc. Chief Executive Officer Tim Cook and Salesforce.com Inc. CEO Marc Benioff have also spoken out.
"Angie's List is open to all and discriminates against none and we are hugely disappointed in what this bill represents," Angie's List CEO Bill Oesterle said in a statement. The company said it would begin reviewing alternatives for its headquarters expansion.
'Misunderstanding' Law
Pence said such criticism is based on "misinformation and misunderstanding" about a law that he said is similar to many others across the country.
"This isn't about disputes between individuals," Pence said. "It's about government overreach."
Even as he denied any attempt to discriminate against gays, Pence repeatedly declined to say whether such discrimination should be legal in Indiana.
Asked if he will push to make gays a protected class against discrimination, the governor said, "I will not push for that. That's not on my agenda."
White House spokesman Josh Earnest said Pence is in "damage control" mode.
"It should be easy for leaders to stand up and say it's wrong to discriminate against people just because of who they love," Earnest said on the same ABC program. "When you have a law like this in Indiana that seems to legitimize discrimination, it's important for everybody to speak out."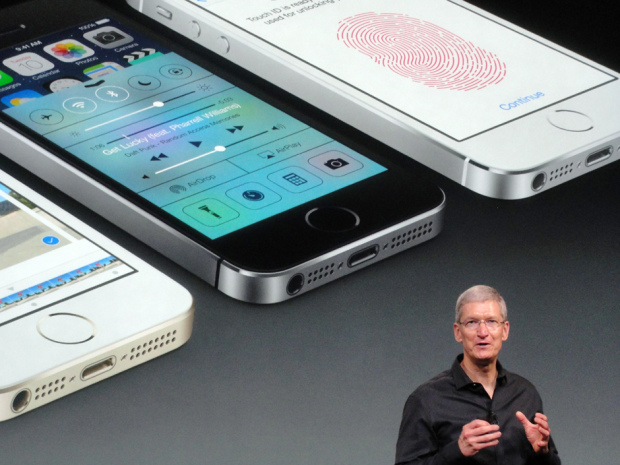 GLENN CHAPMAN/AFP/Getty ImagesApple chief executive Tim Cook
Apple's Cook wrote in a Twitter post on Friday that his company is "deeply disappointed in Indiana's new law," and called on the governor of Arkansas, his home state, to veto a similar measure that is pending.
Salesforce's Benioff tweeted on Thursday that the business- software maker was "canceling all programs that require our customers/employees to travel to Indiana to face discrimination."
And Jeremy Stoppelman, the CEO of Yelp Inc., wrote "An Open Letter to States Considering Imposing Discrimination Laws."
"Yelp will make every effort to expand its corporate presence only in states that do not have these laws allowing for discrimination on the books," the letter said.
Pence, a former six-term congressman and conservative talk- show radio host, has been mentioned by some media outlets as a potential candidate for the 2016 Republican presidential nomination.
Indiana stands "for the importance of marriage and the freedom of religion," he said in a Feb. 27 speech to the Conservative Political Action Committee in suburban Washington.
Lawmakers have introduced more than 85 bills that penalize members of the lesbian, gay, bisexual and transgender communities in 28 state legislatures this year, according to the Human Rights Campaign, an LGBT-rights organization.
"Many of these bills could critically undermine the enforcement of state nondiscrimination protections and passing them will do serious harm to the business climate of these states," the organization wrote in response to the Indiana law. The group plans to place a full-page ad in the San Jose Mercury News to inform Silicon Valley companies about the law, Jason Rahlan, a spokesman, said by e-mail.
By the end of last year, 20 states had passed legislation prohibiting discrimination in employment based on sexual orientation and gender identity, according to data compiled by the organization.
Many of these bills could critically undermine the enforcement of state nondiscrimination protections and passing them will do serious harm to the business climate of these states
Angie's List said in October that it was moving forward with the expansion of its headquarters and that the project could add 1,000 jobs over five years, according to the Indianapolis Star.
The City-County Council on Monday was scheduled to consider the company's proposal, which sought tax incentives.
"We were hopeful that the council would be favorable," Debra DeCourcy, a spokeswoman for Angie's List, said in an interview. "This aspect of the bill that passed recently put a different light on things."
With assistance from Tim Higgins in San Francisco and Tim Jones in Chicago