Desperately Seeking Confirmation of Federal Reserve Board of Governors Nominees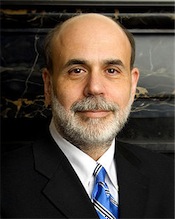 Paul Krugman observes that based on Ben Bernanke's academic writings about monetary policy in Japan, Ben Bernanke should be having the Federal Reserve set an aggressive inflation target and catch up to the price level trend:
A problem with the current BOJ policy, however, is its vagueness. What precisely is meant by the phrase "until deflationary concerns subside"? Krugman (1999) and others have suggested that the BOJ quantify its objectives by announcing an inflation target, and further that it be a fairly high target. I agree that this approach would be helpful, in that it would give private decision-makers more information about the objectives of monetary policy. In particular, a target in the 3-4% range for inflation, to be maintained for a number of years, would confirm not only that the BOJ is intent on moving safely away from a deflationary regime, but also that it intends to make up some of the "price-level gap" created by eight years of zero or negative inflation.
This, it seems to me, is exactly what the Fed should do. But it's not happening. Tim Duy observes:
That said, despite Fedspeak that appears resistant to further easing, the press has been fueling speculation that more easing – albeit largely symbolic – is imminent. From where does this chatter emanate, other that unnamed sources? Perhaps from high ranking staff. Word on the street is that Fed staff are increasingly frustrated with the lack of action from leadership. Why exactly is Bernanke showing such deference to the more hawkish elements such as Kansas City Federal Reserve President Thomas Hoenig, Dallas Federal Reserve President Richard Fischer, and Philadelphia Fed President Charles Plosser? If you seek more easing, you are not alone. Board staff are increasingly your allies.
Bernanke may be suffering from a fit of amnesia. Or maybe Bernanke is an ideologue who wants the economy to suffer long enough to produce a more conservative congress. Or maybe Bernanke is a smart economist who's also an inept manager. Or maybe Bernanke simply knows he's outvoted on the current Open Market Committee. Who knows? But in all cases, the solution is the same. The President needs to get his nominees to the Federal Reserve Board of Governors confirmed, and then as a country we need to hope that they can switch the dynamic.