Density in Delhi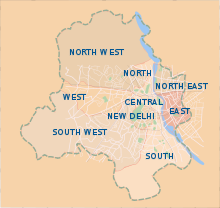 I like to complain about undue regulatory restrictions on dense development in the United States, but as Lydia Polgreen explains in the New York Times the situation is much worse in India:
A recent report by the McKinsey Global Institute estimated that by 2030, 70 percent of India's jobs would be created in cities, and about 590 million Indians would live in them. To provide enough housing and commercial space, it said, India must build the equivalent of the city of Chicago every year. [...]
Like those of many Indian cities, Delhi's building codes and zoning laws were written for a much smaller city in a different time, with policies that actively discourage growth.
The number of floors in most neighborhoods is capped at five stories, and in many areas fewer. The government largely controls land, and government approval for new development is difficult to obtain, even to house the wealthy and middle class, never mind the poor.
Continued urbanization is India's best hope for economic growth and lifting more of its people out of poverty. But to organize in an economically optimal way, a poor country of over a billion people needs to be able to put some tall apartment buildings together. And that's to say nothing of the ecological issues at stake in deciding whether metropolitan India will be characterized by massive sprawl or efficient use of land.