Delays at border, airports likely as Canada set to be sideswiped by U.S. 'sequester' cuts
OTTAWA — Canadians who were promised a speedier crossing at the U.S. border could discover in the coming months that the lineups have only grown longer.
As the clock ticked down to a political showdown in Washington on Friday, it appeared clear that Canada will be sideswiped by massive budget cuts — known as sequestration — set to take effect.
On Thursday, leaders of Canada's business community said this country should brace itself for significant cross-border delays.
Everyone — from exporters that need to quickly ship their products by truck, to tourists planning to drive or fly for a vacation getaway in the U.S. —will be affected.
Jayson Myers, president of Canadian Manufacturers and Exporters, said in an interview that his association expects the delays will be longest at the Canada-U.S. land border crossings. "What we're hearing is that we could be facing four or five-hour delays at the border."
The development comes after U.S. Homeland Security Secretary Janet Napolitano said her department will have to slash staffing — the equivalent, in hours, of 5,000 border patrol agents — as part of sequestration.
That will have "serious consequences to the flow of trade and travel at our nation's ports of entry," she warned.
"The lines over the next few weeks are going to lengthen in some dramatic ways in parts of the country."
Related

Napolitano said the delays will be felt at the Canada-U.S. border.
Those dire warnings have left businesses scrambling for more detail, and a Washington-based adviser to the Canadian manufacturers said Thursday there are indications from U.S. customs officials that the impact might not be so dramatic.
Nonetheless, deep uncertainty remains and businesses are worried about the economic fallout of a border that once again becomes sluggish.
The scenario threatens to erode the Beyond the Border deal, a 2011 agreement that Prime Minister Stephen Harper and U.S. President Barack Obama reached to create a "perimeter security" wall against terrorists while also easing congestion at the border.
The deal grew out of how the U.S. reacted to the 9/11 attacks on its own country — imposing stringent security measures which slowed traffic at the Canada-U.S. border to a crawl.
Myers said he hopes both countries find ways to prioritize how to spend money in their much-touted deal.
But there are widespread fears about whether parts of the initiative will now be put on the backburner by the U.S. because of the budget cuts.
"The Beyond the Border initiative is so important," said Myers.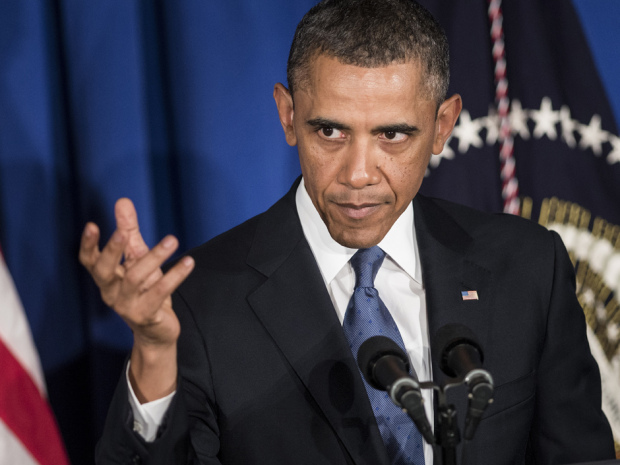 BRENDAN SMIALOWSKI/AFP/Getty ImagesU.S. President Barack Obama speaks to members of the Business Council during a dinner February 27, 2013 in Washington, DC. Obama spoke about the possible effects of the upcoming sequester's butget cuts on the business community before taking questions in a closed session.
"It is to increase efficiency at the border, make sure that border delays and costs of crossing the border are minimized. And this just turns the clock right back to 2001."
In Washington, Obama and congressional Republicans have been squaring off for months over the budget. They averted plunging over the so-called "fiscal cliff" with a partial budget deal earlier this year.
But they still needed to find common ground on other contentious questions — spending cuts and tax hikes — at the heart of reducing the U.S. debt.
Without an agreement by Friday, $85 billion in across-the-board cuts to the military and most government spending programs automatically kick in.
In recent days, Obama and his cabinet ministers have warned Americans the cuts will be too severe and have called for a compromise from Republicans, who countered that the administration is fear-mongering about the cuts.
Napolitano said the cuts won't happen immediately, but will take effect gradually as people are put on "furlough", or as overtime is slashed.
Delays will occur at border crossings at Customs checkpoints in U.S. airports, said Napolitano.
She said at the busiest airports, peak wait times could rise from two hours to four hours or more.
At seaports, delays in examinations of containers will increase to five days.
Napolitano said the delays will be particularly felt at the Canada-U.S. border because "there's only a few big crossing places for trade."
"In fact, trade-wise, they're probably the number one or two crossing places in the world. As sequester evolves and we have to furlough people who are port officers, and not fill vacant positions, and not pay overtime, we're unfortunately going to see those lines really stretch."
mkennedy@postmedia.com