Delaware Senate Getting Hot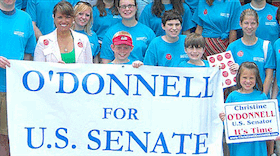 You'd normally think of Delaware as safe territory for Democrats, but the state's lone incumbent House member is Mike Castle, a very popular guy who normally registers as among the least-conservative remaining members of the House GOP caucus. But the same factors that make Castle a very formidable general election candidate are giving him big problems in the primary:
It looks like there's a real possibility of a major upset in the Delaware Senate primary on Tuesday night, with insurgent conservative Christine O'Donnell leading longtime Congressman and Governor Mike Castle 47-44. That 3 point lead is well within the poll's margin of error. [...]
This race is too close to call and could certainly go either way Tuesday night. General election Senate numbers we'll release later this week make it clear the biggest beneficiary of this primary becoming so unexpectedly hotly contested is Chris Coons. He would start out with a large advantage over O'Donnell in a general election match up, and is polling closer to Castle than he was when PPP polled Delaware last month.
A lot of people I know are excited about O'Donnell's surge since it gives Coons—who's much more progressive than either—the best shot. My view is that that kind of partisan view is a little short-sighted. Both parties are destined to govern approximately half of the time and what matters most is the strength of progressive ideas in either party. The increasingly rigid conservatism of the GOP is a huge impediment to progressive causes and Castle's problems reflect that.