DeHart family heads back to the U.S. after failed asylum claim: 'It's like going back to the land of Mordor'
BUFFALO – FORT ERIE BORDER CROSSING — With legal avenues near exhausted to protest the treatment of their son, who claims he was tortured while in U.S. custody as part of a national security investigation, Paul and Leann DeHart were left only with symbolism; ordered out of Canada after their family's refugee claim was declined, they chose to leave on April Fool's Day and to cross back to the United States over the Peace Bridge.
Their final night in Canada mirrored their first — staying in a hotel near the border — but their anxiety was the polar opposite. While their arrival brought a sense of relief and peace, they said, their departure brought fear and uncertainty.
"I really have no idea, exactly, what's going to happen. The very least we expect they'll search our vehicle, thoroughly. We expect we might be questioned," said Mr. DeHart as he prepared to cross the border.
"We don't know if we'll be arrested or not. That's a fear in the back of our minds. It's hard not to think about that."
Ms. DeHart, referencing the evil kingdom in one of her son's favourite books, The Lord of the Rings, said: "It's like going back to the land of Mordor."
Their fear stems from the fact that when the family drove into Canada on April 3, 2013, they knew their son was free on bond pending his appearance in court in Tennessee for trial on child pornography charges. But leaving the United States breached the court's order.
The family maintains the charges are a ruse by government agents as leverage in a national security probe. Matt DeHart is a former member of the U.S. Air National Guard. While he trained in the secretive drone program, he says, he was involved in Anonymous, the global hacktivist group, and ran an Internet server used to leak a classified U.S. government document, likely destined for WikiLeaks.
They fled to Canada and sought refugee protection, which was denied in February.
The bizarre and disturbing case was the focus of a large investigation by the National Post last May that found serious questions about the way the case was handled. It has since attracted international attention.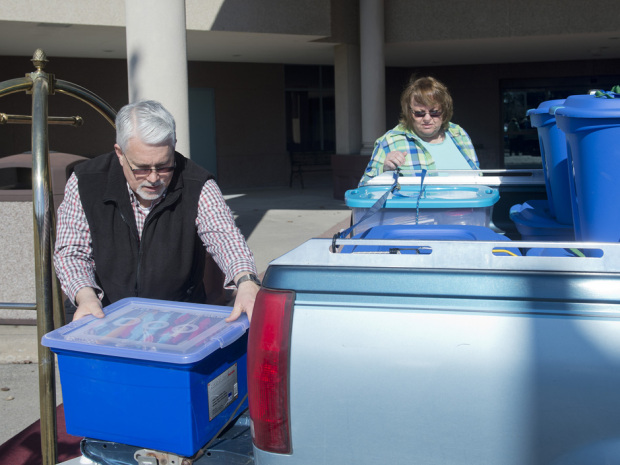 Laura Pedersen/National PostPaul and Leann DeHart pack their belongings into the back of their pickup truck as they prepare to leave Canada at the Clarion Hotel in Fort Eerie, Ontario on Wednesday, April 1, 2015.
A small group of supporters, Matt DeHart's New York lawyer, Tor Ekeland, as well as journalists from Canada, the United States and Europe gathered by the Peace Bridge, where the DeHarts were meeting Canada Border Services Agency (CBSA) officers before leaving.
As Mr. and Ms. DeHart prepared for the crossing, Matt said his parents' fate was in God's hands.
"I'm hopeful they won't be harassed and that people will be on their best behaviour. I'll leave it to God," he told the Post in a phone interview from the Warren County Regional Jail in Bowling Green, Ky. He was held in the same facility for 21 months before he was released on bond and fled to Canada seeking asylum.
"It's a wonderful homecoming," he said. "I'm the best that I can be given the circumstances. I'm with 10 men in a cell without windows in the basement."
Related

In the end, the DeHarts' border crossing went swiftly and smoothly.
As their pickup truck — its bed stuffed with plastic boxes filled with their belongings — pulled to the customs booth on the U.S. side just before 11 a.m. Wednesday, four border agents, expecting their arrival, jogged up to it.
There was brief interaction with the guards and the DeHarts were waved to one side, where a senior border agent had the couple fill out paperwork, including signing a Canadian departure certificate for two CBSA officers who were also there.
Within 15 minutes they were on their way.
"I can only imagine that the reason why it went so smoothly is because the world is watching and I appreciate everyone who is following our story," said Mr. DeHart after the crossing.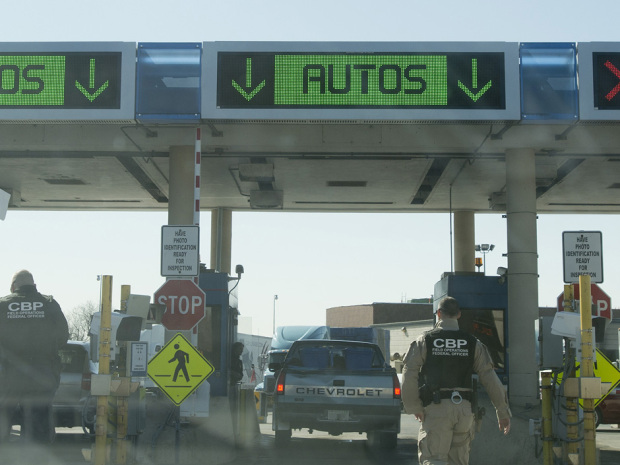 Laura Pedersen/National PostBorder agents approach the pickup truck driven by Paul and Leann DeHart at the American side of the Peace Bridge border crossing.
The family's hope, Ms. DeHart said, is to return to live in Canada.
Any such move, however, would be a long way off.
"It went the way you want something like this to go — anticlimactically," said Mr. Ekeland. "They were polite and professional," he said of the guards on both sides of the border.
Matt DeHart has a court appearance on the pornography charges scheduled for April 14 and he hopes to see his parents there. The Deharts will face the same judge who released Matt on bond to his parents' supervision.
A spokeswoman for CBSA said the Privacy Act prevented the agency from speaking to the specifics of an individual case and could not answer questions about the DeHarts' departure.
A spokesman for the U.S. Customs and Border Protection said the crossing was uneventful and routine and had no information to relay.
ahumphreys@nationalpost.com
Twitter.com/AD_Humphreys