In Defense of Lying; Against War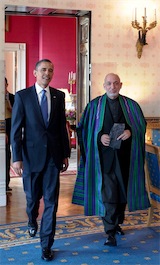 Amy Davidson has a smart take on the whole WikiLeaks episode, including this:
One should pause there. What does it mean to tell the truth about a war? Is it a lie, technically speaking, for the Administration to say that it has faith in Hamid Karzai's government and regards him as a legitimate leader—or is it just absurd? Is it a lie to say that we have a plan for Afghanistan that makes any sense at all? If you put it that way, each of the WikiLeaks documents—from an account of an armed showdown between the Afghan police and the Afghan Army, to a few lines about a local interdiction official taking seventy-five-dollar bribes, to a sad exchange about an aid scam involving orphans—is a pixel in a picture that does, indeed, contradict official accounts of the war, and rather drastically so.
I have two reactions to this. One is that the world needs a reminder that lying (um, "diplomatic language") has a long and noble tradition in international relations. There's no reason whatsoever to think that optimal US policy toward Afghanistan involves Barack Obama saying exactly what he thinks about Hamid Harzai and that goes double for Pakistan and actually goes triple for America's allies among the developed democracies. Leaks and anonymous quotes from "administration officials" are in fact the proper way for this kind of information to be conveyed, since the principles involved can always publicly deny it if necessary. A wedding toast is not the time to tell the world exactly what you think about the happy couple, and it's not the President's job to convey unvarnished opinions about foreign governments.
The other is that, as Davidson says, even without blockbuster exposés of noteworthy official lies, to examine the war in granular detail is in some ways to expose the whole enterprise as a lie in the general sense that all wars—even the good ones—are built on lies. There's a point of view out there, which these days I would associate primarily with the Bill Kristol faction of conservatism but which in the 1997-2005 period also garnered support from an intellectually influential swathe of "liberal hawks," that holds that one primary problem in US politics is an undue hesitancy to initiate wars. In this telling, small-scale versions of the policy problems of 1933-41 are constantly recurring and it's important to engage in a whole variety of tactics to keep the political system pumping men and materiel into wars and the infrastructure to support them. I think this is badly mistaken and the fact that detailed descriptions of wartime conduct tend to undermine support for said conduct is telling about the fact that in general militarism and nationalism are bad forces in the world's political and intellectual life.