DC Should Aim to Grow, Rather Then Shrink, as a Share of the DC Area
Via Eric Weber the latest growth forecasts for the Washington DC area foresee strong growth in both population and employment in both the city and the surrounding area: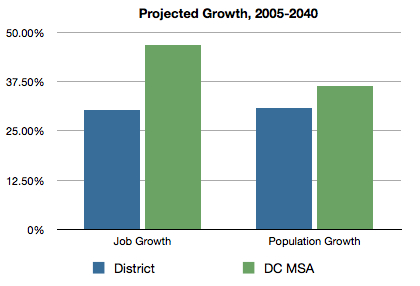 I don't think DC residents should reconcile ourselves to accepting the idea that our city will grow slower than the metropolitan area as a whole. If we allowed for the construction of taller office buildings downtown, more employment than this would located in the District. This would allow for lower tax rates and better city services, both of which would make the city a more attractive place to live. Combine that with the fact that proximity to employment is a factor people consider when choosing where to live, and we could see much stronger population growth.
That would mean shorter commutes, less sprawl, a more efficient regional economy, and less pollution.
Much the same, I might add, applies to the inner suburbs of Arlington, Montgomery, Prince George's, and Fairfax Counties all of which are projected to see slower-than-DC population growth. These territories contain many more people and occupy much more space than DC itself. And they're nice places to live. But land use regulation tends to prevent them from becoming denser, and pushes people ever-further out onto the fringe.