Daniel Craig delays spectre of retirement as James Bond, confirms 5th film to Colbert
Daniel Craig has confirmed he'll be returning to his role as James Bond, playing the suave spy for one more movie.
Just hours after Craig gave a non-committal response to the question of his return during an interview with a U.S. radio show, he appeared on The Late Show with Stephen Colbert and gave a very different answer.
When asked by Colbert if he would be reprising the part of 007, Craig replied: "Yes … I always wanted to; I wanted a break. We've been discussing it, we've just been trying to figure things out."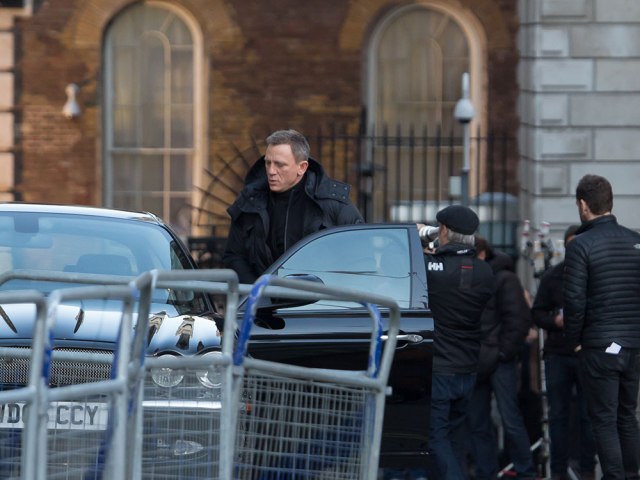 Central London comes to a standstill as filming for 'Spectre,' starring Daniel Craig as James Bond, takes place near Admiralty Arch on May 31, 2015.
However, Craig also admitted he's likely to play the role for only one more movie, adding: "I think this is it. I just want to go out on a high note. I can't wait."
He also apologized to his previous interviewers from the day, explaining he had withheld the announcement to make it on Colbert's show.
The 49-year-old actor has played suave spy 007 in the past four films in the franchise, but had been thought not to be returning for a fifth outing after saying he would rather "slash my wrists" than reprise the role.
Britain's The Sun newspaper recently reported that Craig agreed to return as Bond after undergoing negotiations with producer Barbara Broccoli.
"There was plenty of talk about who would be the next Bond but Barbara has managed to talk Daniel into (another film)," an insider told the publication. "He is loved by audiences around the world and has driven a real resurgence for the movies at the box office, so bosses knew they couldn't lose him just yet."
Apparently, the next film is set to be entitled Shatterhand, and is due for a release in November, 2019.
WENN.com