Dan Loeb's Q4 Letter: Trump Will Make Investing Great Again
While Ray Dalio may be getting second thoughts about the impact of Trump's policies on the US and global economy, for Third Point's Dan Loeb there are no such concerns, yet. In his latest letter, Loeb is betting President Trump will be good for investments thanks to his planned mix of tax cuts, reduced regulation and infrastructure spending.
"This environment is undoubtedly better for active investing – just as active investing was considered to be on its deathbed," Loeb wrote in a letter to clients of his $15 billion Third Point. Repeating a claim made by other pundits hoping that 2017 will finally be a banner year for active investors, Loeb thinks a shift from government monetary stimulus to measures that will increase personal and corporate spending will create lower correlations between various types of securities and greater dispersion of results within them, such as stocks, Loeb said and added that higher interest rates will also create better investing opportunities.
The focus on the letter was, predictably, Trump's victory and the investment consequences as a result:
The U.S. Presidential election was the most significant event of the year and the most important paradigm shift since the financial crisis. We did not anticipate Trump's win although his election served to crystalize trends that had been taking place for some time but had been largely ignored. Starting the morning after the election, we took immediate steps to reorganize the portfolio around investments that we believe will benefit from Trump's stated policy objectives.
This is how Loeb sees the resulting transition for active managers:
Trump's election has accelerated the end of QE. The baton is now passing from the Fed to the Treasury, which will provide fiscal stimulus via comprehensive tax reform and infrastructure spending. We expect a significant reduction of corporate and individual taxes, the elimination of the interest rate deduction, and the removal of the deductibility of state and local income taxes from federal returns. To stimulate investment, we see an immediate deduction for capital spending and a dramatic pullback in government bureaucracy, red tape, and regulation. Most controversial and complex is the proposal to help pay for these measures with a Border Adjusted Tax ("BAT"). According to its proponents, the BAT would encourage greater investment in the United States and harmonize our tax policies with the Value Added Tax levied by many of our trading partners. Finally, a significant infrastructure plan would also stimulate the economy, create jobs, and increase the labor participation rate, which dropped drastically in the Obama era. The infrastructure plan would be paid for in part by an ~8% tax on repatriated funds held offshore by United States corporations.

In the immediate term, we believe we will see an acceleration of economic growth at home. Electing a President who is seen as pro?business (ignoring his protectionist views on global trade) has awakened animal spirits, already demonstrated by the record spikes in both business and consumer confidence since the election. This economic growth will come at the same time as inflation is starting to inflect upwards and the domestic economy is close to full employment, notwithstanding the low labor force participation rate.
Loeb wrote that like Druckenmiller and Icahn, he made changes to Third Point's investment holdings immediately after Trump's election win, shifting to stocks and away from corporate and structured credit. Third Point now has similar-sized holdings in the healthcare, technology, industrial and financial sectors. A big change, as first pointed out by Reuters, is Loeb's change in financial company holdngs: the sector now represents 11.8% of the fund, up from 4.4% on Nov. 8, according to the letter. Loeb's focus is now on banks and brokers and includes exposure to Japan.
"The pendulum in monetary policy has begun to shift away from the past decade of extraordinary easing just as the pendulum in fiscal policy has begun to shift away from austerity and its limiting factors," Loeb wrote. "The U.S. elections served as a marker for these policy shifts which, in our view, are bullish for rate?sensitive financials."
Loeb also urged caution on investment during the Trump presidency, noting hedges on Third Point's portfolio, but said that even volatility could be a benefit.
Our bullishness is not without some caution, however. We recognize that trade wars and/or escalating inflation could result in a policy mistake that could then result in a sharp sell?off. Our hedges are structured to guard against negative impact from those events.
"While America may or may not be made great again, there is no question that the rules are literally being rewritten," Loeb wrote. "We do not plan to trade the tweets but we expect an increasing number of real and, even better, fake dislocations to create some extremely rewarding investing opportunities."
Third Point's main hedge fund lost 1.1% in the fourth quarter, wrapping up a year that Loeb said was "disappointing". The fund gained only 6.1% in 2016, below its 15.7% average annual return since 1996 and less than an approximately 12 percent gain for the S&P 500 Index, with dividends. However, in a good start to 2017, Third Point's master offshore fund rose 2.6% in January.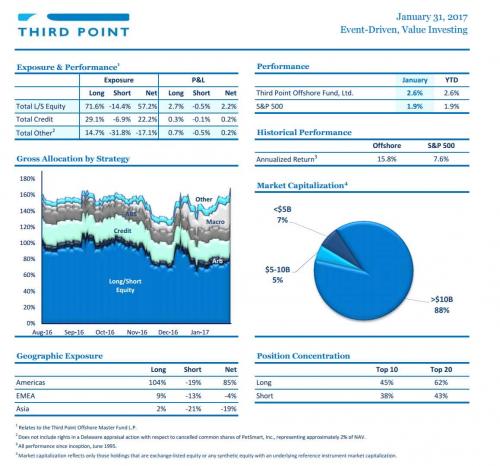 Full Third Point Q4 letter below: