Cyprus, a former press secretary, and the RNC: We now know more about Manafort's Trump Tower notes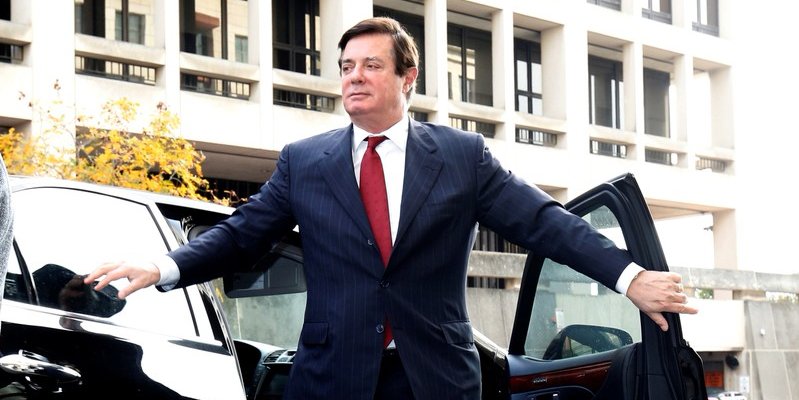 Thomson Reuters
Notes taken by President Donald Trump's campaign chairman during a meeting at Trump Tower in June 2016 with a Russian lawyer and Russian lobbyist were described in a transcript released by Congress earlier this week.
The notes reference Cyprus, the RNC, and Juleanna Glover — a press secretary for former Vice President Dick Cheney who has worked with the anti-corruption activist Bill Browder.
Manafort gave his notes, which he took on his iPhone, to the Senate Intelligence Committee last July.
Contemporaneous notes taken by President Donald Trump's campaign chairman Paul Manafort at a meeting with a Russian lawyer and lobbyist at Trump Tower during the election reference Cyprus, "active sponsors of RNC," and "Russian adoptions by American families," according to an interview transcript released by Congress earlier this week.
Senate Judiciary Committee investigators showed the notes to Glenn Simpson, the cofounder of the opposition research firm Fusion GPS, and asked him whether he recognized any of the terms or phrases Manafort wrote down during the June 9 meeting and later provided to congressional investigators.
The notes mentioned "active sponsors of RNC" and referenced Juleanna Glover, a political strategist and lobbyist who served as Dick Cheney's press secretary during the Iraq war, according to the transcript. There was also a reference to "133 million," according to Simpson.
"We understand these are meeting notes," said Jason Foster, the chief investigative counsel for Senate Judiciary Committee chairman Chuck Grassley.
"Do these phrases about -- including Mr. Browder, mean anything to you or relate to any of the research that you conducted or otherwise aware of regarding Mr. Browder?" Foster asked.
Bill Browder, a wealthy American banker, was the target of opposition research conducted by Fusion GPS on behalf of a US law firm representing the Russian holding company Prevezon. Browder had accused Prevezon of being involved in a $230 million tax-fraud scheme and laundering the stolen money into New York City real estate.
"I could tell -- obviously you know who Bill Browder is," Simpson told the committee, after being shown the Manafort meeting notes. Simpson had told the committee earlier that his work for Prevezon's American lawyers was focused "on trying to get William Browder to testify under oath about his role in this case and his activities in Russia."
"Cyprus Offshore, Bill Browder's structure, you know, investment -- Hermitage Capital, his hedge fund, set up numerous companies in Cyprus to engage in inward investment into Russia," Simpson said, "which is a common structure, both partially for tax reasons but also to have entities outside of Russia, you know, managing specific investments."
"I can only tell you I assume that's what that references," Simpson added. "I don't know what the 133 million --"
Foster cut Simpson off.
"Do any of the other entries in here mean anything to you in light of the research you've conducted or what you otherwise know about Mr. Browder?" he asked.
Simpson said he could guess:
"So, 'Value in Cyprus as inter,' I don't know what that means," Simpson said. "'Illici,' I don't know what that means 'Active sponsors of RNC,' I don't know what that means. 'Browder hired Joanna Glover' is a mistaken reference to Juleanna Glover, who was Dick Cheney's press secretary during the Iraq war and associated with another foreign policy controversy. 'Russian adoptions by American families' I assume is a reference to the adoption issue."
Simpson added that "a couple of items" in the notes referenced things his firm had worked on, including Cyprus and Bill Browder's financial ties to the country.
Glover confirmed on Friday that she served as the Ashcroft Group's lead lobbyist pushing for the Magnitsky Act's passage between 2011 and 2012, and had worked with Browder in that capacity.
It is not clear why the "RNC" — possibly a reference to the Republican National Committee — was brought up during the meeting. Manafort's spokesman Jason Maloni declined to comment.
Donald Trump Jr., who was also at the meeting, said in a statement last summer that the Russian lawyer who had promised the campaign dirt on Hillary Clinton spoke only of Russia's adoption policy. The policy was altered to bar American families from adopting Russian children in retaliation for the signing of the Magnitsky Act in 2012.
Manafort gave his notes, which he took on his iPhone, to the Senate Intelligence Committee last July when he appeared before the committee to testify. He has since been indicted by special counsel Robert Mueller on charges including money laundering, tax-fraud, and violations of the Foreign Agents Registration Act.
NBC reported last August that the notes made a vague reference to political contributions and the RNC and therefore elevated the significance of the notes for congressional investigators. The references to "133 million," Glover, and Cyprus — where Manafort himself kept bank accounts during his years working in Ukraine and investing with a Russian oligarch — had not been previously reported.NOW WATCH: Former White House photographer describes what is was like to capture Obama on the worst day of his presidency