Cutting defense spending more popular than cutting education or Social Security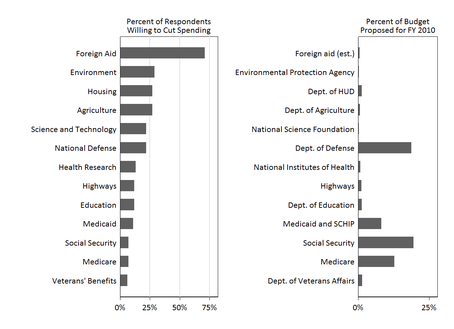 The chart above comes from John Sides, and is the single best explanation of why it's so much easier to say you want to cut government spending than it is to actually cut it. On the left are the results of an Economist/YouGov poll asking people "If government spending is reduced in order to balance the budget, which of the following government programs should receive lower federal funding than they currently do?" On the right is the percentage of the budget these programs actually account for.
The only program that more than a third of the public wants to see cut is foreign aid. Bummer, then, that it accounts for less than a single percent of the budget.
But the fact that people want a smaller budget deficit but no reductions in actual spending is old news, and well accounted for in Congress. What's interesting about this chart, however, is that a sizable minority of the population wants to cut defense spending. In fact, defense spending's size of the budget and the number of people who want to cut it match up much more closely than any other two bars on the graph.
You can make too much of this, of course. Only about a quarter of the population wants defense spending cut. But given how terrified politicians are to touch defense spending -- we even invented a category called "non-defense discretionary spending" in order to protect it -- maybe it's time to take another look. Washington may consider defense spending sacred, but the country doesn't -- at least not more than anything else.