Culture Of Harassment At The IMF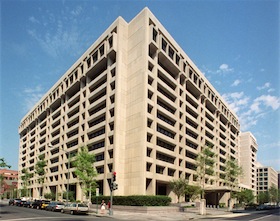 Dominique Strauss-Kahn's personal misconduct aside, the New Look IMF under his watch has actually been doing some very important work the past several years keeping the Keneysian torch alive even as most western governments abandoned it. But Binyamin Applebaum and Sheryl Gay Stolberg report that the whole institution was awash in an alarming culture of sexual harassment and male impunity that provides the context for DSK's (alleged!) assault:
Interviews and documents paint a picture of the fund as an institution whose sexual norms and customs are markedly different from those of Washington, leaving its female employees vulnerable to harassment. The laws of the United States do not apply inside its walls, and until earlier this month the I.M.F.'s own rules contained an unusual provision that some experts and former officials say has encouraged managers to pursue the women who work for them: "Intimate personal relationships between supervisors and subordinates do not, in themselves, constitute harassment."
"It's sort of like 'Pirates of the Caribbean'; the rules are more like guidelines," said Carmen M. Reinhart, a prominent female economist who served as the I.M.F.'s deputy director for research from 2001 to 2003. "That sets the stage, I think, for more risk-taking."
I'm not actually sure how that relates to Pirates of the Caribbean, but apparently an internal review conducted in 2008 concluded that "the absence of public ethics scandals seems to be more a consequence of luck than good planning and action." But that's not good luck in the sense of thanks to our good luck nothing bad is happening. It's more like good luck in the sense of lucky for us, nobody's coming forward and making a fuss. Lots of stuff like this:
In another case, a young woman who has since left the I.M.F. said that in 2009, a senior manager in her department started sending her increasingly explicit e-mails seeking a relationship. She complained to her boss, who did not take any action.
More gross stories at the link if you can stomach it.