Cuban Oil May be Key to Ending US Embargo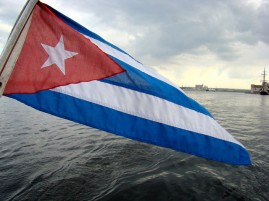 Deepwater oil drilling off the coast of Cuba is expected to start in September 2011, which is raising some questions about the continuation of the US-Cuba trade embargo.
About a half-dozen foreign oil companies have contracted with Cubato explore for deepwater crude oil. Spanish-owned Repsol will be the first to begin offshore drilling. Zarubezhneft, a Russian state-owned oil company, is also expected to start drilling in 2011. Cuba's waters may contain large amounts of lighter, sweet crude oil (the country's onshore drilling produces mainly heavy crude which is more expensive to refine). Cuba has said that its untapped offshore oil fields may contain about 20 billion barrels of oil. The US Geological Survey has estimated about 5 billion barrels.
However vast the reserves, the US will not be participating in exploration. Or will it? Just how big do the oil reserves have to be before the US lifts it embargo with Cuba?
Some Americans say the US should not lift the embargo until Cuba has enacted democratic reforms, oil or no oil. Two Florida Senators have even crafted legislation to punish any US companies that participate in Cuba's oil development. Florida politicians say that ending the embargo would alienate voters; many older Cuban-Americans still have anti-Castro sentiments. However, younger generations of Americans and Cuban-Americans increasingly support weakening the embargo.
Personally, it's hard for me to believe the US would miss out on an opportunity to explore for oilso close to home. I'm not a gung ho oil company supporter or a "drill, baby, drill" advocate, but I guess the anti-communism view is a bit lost on me when it comes to international trade. (China, one of the US' biggest trading partners, is a communist state after all.) Then again, I am not a Cuban-American, nor was I born when the trade embargo was enacted in the 1960s.
Time (and oil discoveries) will tell if the US will finally end the Cuban trade embargo. If large reserves are discovered, I'm sure oil and gas industry lobbyists will ramp up efforts to eliminate the embargo. Environmental groups will also weigh in. Vast Cuban oil reserves could force politicians to take a side on the embargo issues, but I doubt there will be any changes to the US' trade policies with Cuba until after 2012 elections.
~
Photo by Phil Guest, used under a CC-Share Alike license.