Crude Slammed After Inventory Builds Across Entire Oil/Product Complex
Following API's reported biggest crude build in 4 months overnight, which weighed on oil prices, DOE exasperated the pain by signaling builds across the entire complex. Crude's build of 2.5m barrels (biggest in 3 months) was less than API but more than the expected 850k draw but Cushing saw a big build and gasoline and distillates both saw builds despite expectations of big draws. As a reminder, US Crude production surged by the most since May 2015 the prior week but fell modestly in the last week. Crude tumbled back to $47 on the print.
API
Crude +4.464mm (-850k exp)
Cushing +417k (+200k exp)
Gasoline -2.2mm (-1.7mm exp)
Distillates -834k
DOE
Crude +2.5mm (-850k exp)
Cushing +375k (+200k exp)
Gasoline +36k (-1.7mm exp)
Distillates +122k
DOE reports biggest build in 3 months and builds cross the entire complex... This is the first time since Feb 2016 that all 4 major segments have seen a build in the same week.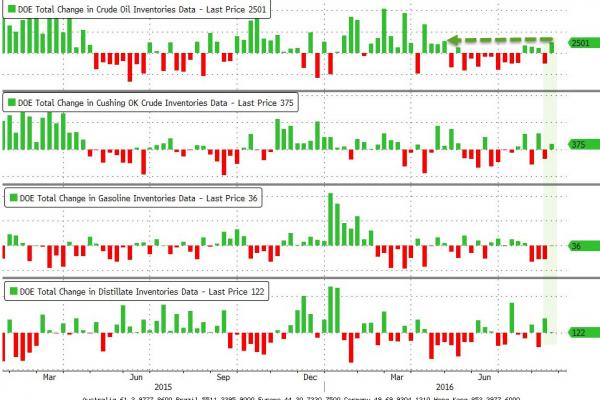 Production surged most since May 2015 the prior week but fell this week.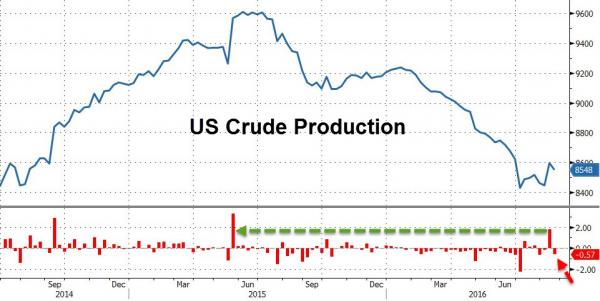 The other key variable, gasoline stocks, remained flat at 233 million bbls.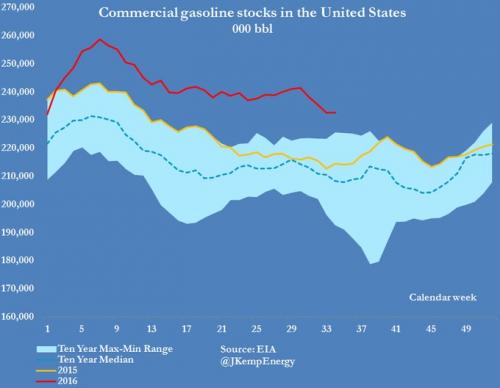 There was some good news for East Coast gasoline stocks which declined by 1 mm bbd to 69 million, now just 14% higher than a year ago, which however may be a function of more tankers leaving such PADD 1 ports as New York and heading to other, less full locations.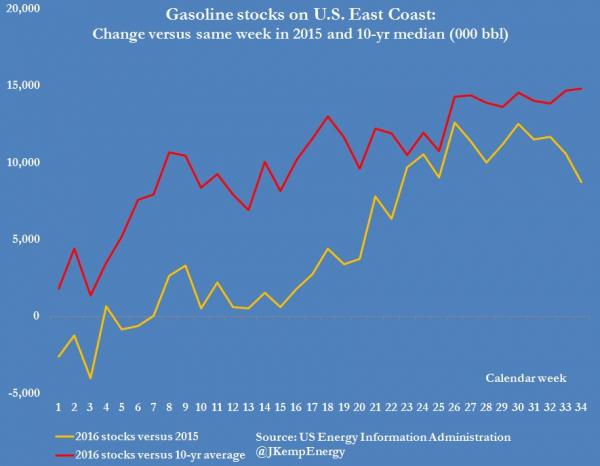 The offset was that East Coast crude stocks last week rose by the most since February 2015, suggesting another big spike in gasoline inventories is imminent.
* * *
The reaction in crude is obvious - erasing the minal bounce intraday and extending the post API weakness: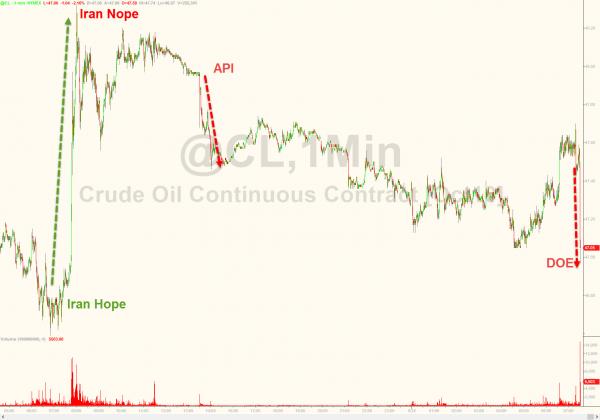 Finally we note that Citi's Morse warns that oil is "at risk of wash-out" if OPEC doesn't freeze.