Crowding Out Watch, Updated
I'm teaching the concept of portfolio crowding out in my intermediate macro course (handout with algebra here) now, and as I was going through the notes, I observed that last I had checked, there was (still!) little evidence of crowding out. Here's the graph, updated with data through 2/25 (that is, pretty much the same story as last time I discussed this, despite the hysterics).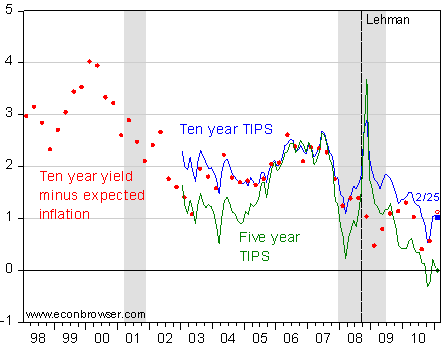 Figure 1: Ten year constant maturity TIPS yields (blue), and observation for 2/25 (blue square); five year constant maturity TIPS yields (green), and observation for 2/25 (green circle); and ten year constant maturity yield adjusted by ten year median expected CPI inflation rate (red circles), observation for 2/25 (red open circle). NBER defined recession date shaded gray. Source: FREDII, Philadelphia Fed Survey of Professional Forecasters, NBER and author's calculations.
Relative to my September post, the ten year TIPS is slightly up, but the five year remains at zero (well, actually negative).
This means that whatever upward pressure there is on government interest rates due to the large supply of government debt, it is being offset by low demand from the private sector (or by demand from offshore sources).
Of course, the crowding out of investment phenomenon relies upon a variety of assumptions. It follows from a two asset model (money, bonds), with the right parameter values. With three assets, one can get "crowding in". And even if interest rates had risen, if investment depends upon income (or the change in income), one could still get a net increase
in investment from a positive fiscal impulse.
Another implication of having interest rates at zero (at least the five year real) is that if fiscal policy is made more contractionary (as in some recent plans), then the contractionary impact should be large (this is just the mirror image of fiscal policy effectiveness in a liquidity trap). For more discussion/links of the economics, see here. For recent discussion of the impact by the economic research firms, see here and here. In his testimony today, Fed Chairman Bernanke indicated he believed the Moody's Analytics estimate was high, as it was described to him (although there was some back and forth on whether the estimates pertained to calender or fiscal years, and the magnitude of the cuts, so I'm not sure exactly how much of a difference there is in terms of per dollar impact).