Could reconciliation work for the climate bill?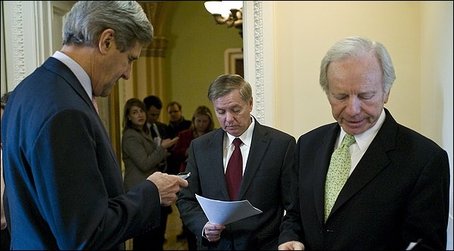 The contretemps between Lindsey Graham and Harry Reid derailed the planned roll-out of the climate bill, but that doesn't mean the legislation is any less done. And so behind the scenes, it's been sent to the EPA to be modeled. If and when Graham and Reid work things out, the bill's supporters are hoping they won't have lost too much time.
Meanwhile, the possibility of losing Graham has left some people wondering what would happen if climate-change legislation had to be passed through reconciliation. Politically, there's almost no chance of this. But putting the politics aside for a second, what would happen to the policy? David Roberts, in a post that includes pictures of adorable teacup pigs, explains:
You can think of good climate policy as a three-legged stool: legislation, regulation, and investment. ... Reconciliation would effectively chop off the regulatory leg of the stool. It would, for instance, rule out at least half the provisions in the Waxman-Markey ACES bill that was passed by the House last summer, most importantly renewable-energy standards (which drive cleantech deployment and innovation) and energy-efficiency standards (which save money and reduce emissions). On the bright side, it would also preclude any rollback of EPA authority or preemption of state climate programs.
You could imagine some sort of two-bill strategy, but if you had the support for that, you'd have the support for lots of things. "In short," concludes Roberts, "reconciliation -- like Cantwell-Collins, like the carbon tax, like the energy-only bill, like so many others that have come and gone in this debate -- is another pony, gamboling just out of reach, enticing largely because it it's hypothetical, serving mostly to distract attention from the haggard pack horse that is, for all her faults and infirmities, the only ride we've really got." That horse, in case you're confused, is the Kerry-Lieberman-Graham bill.
Photo credit: Scott J. Ferrell/Congressional Quarterly.