Could Congress Force a US Debt Default?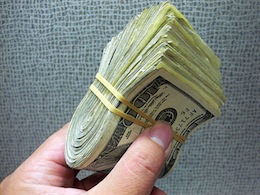 The conventional wisdom is that there's no way the United States government could default on its current debt obligations. After all, those debts are all denominated in dollars, and the US government decides how many dollars to print. At some point, people might lose faith in the whole thing and render it impossible to borrow in dollars, but our current debts carry only inflation risk, not default risk.
The fly in the ointment, as Bruce Bartlett points out, is the need for congress to vote in favor of raising the debt limit. Could emboldened post-midterms Republicans simply refuse to agree to this? Maybe so:
Furthermore, a growing number of conservatives have suggested that default on the debt wouldn't be such a bad thing. It is often said that default would lead to an instantaneous balanced budget because no one would lend to the U.S. government ever again. Therefore, spending would have to be cut to the level of current revenues. Writing in Forbes last month, the Cato Institute's John Tamny was enthusiastic about the prospects of default. Said Tamny, "It's time we learn to love the idea of a U.S. default . . . For Americans to worry about a debt default is like the parent of a heroin addict fearing that his dealers will cease feeding the addiction."
While acknowledging there might be some pain from default, he dismissed it as trivial compared to the enormous blessing of a massive reduction in federal spending.
Tamny is not an isolated crackpot; reputable conservative economists have been writing sympathetically about the idea of default for decades. These include Nobel Prize-winning economist James M. Buchanan, whose 1987 essay, "The Ethics of Debt Default," defended the morality of default on the grounds that deficits weren't financing public capital but current consumption, with the bills being passed on to future generations.
Other prominent conservatives who have been favorable, even enthusiastic, about debt default include Murray Rothbard, Dan Pilla, and Christopher Whalen. In 1995, then House speaker Newt Gingrich publicly warned the Public Securities Association that he was prepared to default on the debt unless Bill Clinton acceded to Republican demands for budget cuts. "I don't care what the price is," Gingrich said.
Disturbingly, we have reason to believe that if congressional Republicans sent the country into an economic tailspin by refusing to authorize an increase in the debt level, that the pubic would respond to the ensuing economic problems by blaming Barack Obama. For good or for ill, the voters seem inclined to give credit or blame to the White House, regardless of what actually happened. This is all still pretty unlikely, but it's a nice encapsulation of some of the perverse consequences of the way our polity is structured.