The Corporate Recovery
David Leonhardt reflects on America's corporate recovery: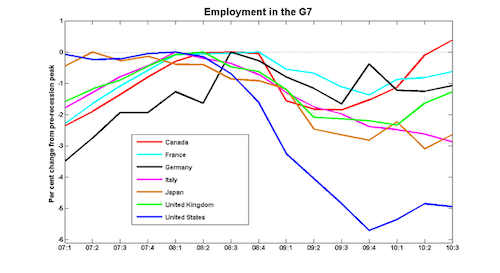 The gross domestic product here — the total value of all goods and services — has recovered from the recession better than in Britain, Germany, Japan or Russia. [...]
Relative to the situation in most other countries — or in this country for most of the last century — American employers operate with few restraints. Unions have withered, at least in the private sector, and courts have grown friendlier to business. Many companies can now come much closer to setting the terms of their relationship with employees, letting them go when they become a drag on profits and relying on remaining workers or temporary ones when business picks up.
Just consider the main measure of corporate health: profits. In Canada, Japan and most of Europe, corporate profits have still not recovered to precrisis levels. In the United States, profits have more than recovered, rising 12 percent since late 2007.
On some level, though, this still looks to me like aggregate demand. Normally highly profitable firms would attract lots of capital and expand rapidly. People don't just sit around saying "what a highly profitable store I have here, let me count my money"—they try to franchise and get richer and richer. The exception is that if you expect generally depressed economic conditions then the mere fact that you're running one highly profitable store may still leave you doubting that a second store would make money. And, after all, with American households debt-constrained and many households suffering reduced income due to unemployment it seems quite reasonable to think that even profitable firms may not have expansion opportunities. You need to raise demand expectations by putting money into people's hands.
That said, what I think is clear is that a country with an institutionally stronger union movement wouldn't have let the current situation come to pass. What happened in Germany is basically that faced with a political culture that's absolutely terrified of stimulus, they worked out a labor-capital bargain that avoided mass unemployment even in the face of very poor GDP performance. It's possible that a hypothetically stronger labor movement in America would have worked out such a deal, but also possible (and more, I think, in keeping with the American character) that it simply would have demanded more stimulative policy and we'd have both lower unemployment and higher real output. As it stands, though, America's weak labor movement is concentrated in health care and the public sector so the bulk of its reduced store of ammunition has been focused on those elements of the economy.