Consumer Metrics Institute: Putting the Growth Index Into Larger Perspective
Doug Short submits: Here's a new update on the Consumer Metrics Institute Composite and Growth Index charts I've followed over the past year.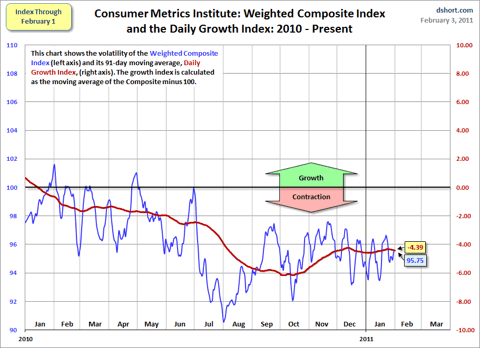 Background Here is a link to the Institute's website. Its page of frequently asked questions is an excellent introduction to the service. See also the Institute's January 29 commentary, What the BEA's Advance Estimate of Fourth Quarter 2010 GDP Was Really Telling Us. The charts below focus on the 'Trailing Quarter' Growth Index, which is computed as a 91-day moving average for the year-over-year growth/contraction of the Weighted Composite Index, an index that tracks near real-time consumer behavior in a wide range of consumption categories. The Growth Index is a calculated metric that smooths the volatility and gives a better sense of expansions and contractions in consumption.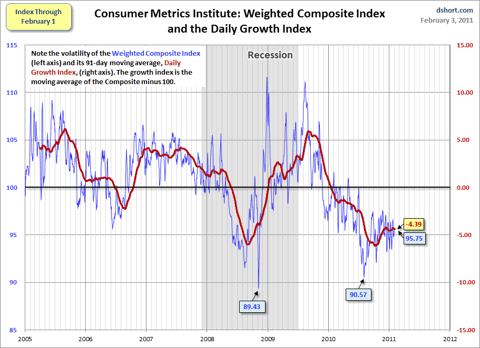 The 91-day period is useful for comparison with key quarterly metrics such as GDP. Since the consumer accounts for over two-thirds of the US economy, one would expect that a well-crafted index of consumer behavior would serve as a leading indicator. As the chart suggests, during the five-year history of the index, it has generally lived up to that expectation. Actually, the chart understates the degree to which the Growth Index leads GDP. Why? Because the advance estimates for GDP are released a month after the end of the quarter in question, so the Growth Index lead time has been substantial.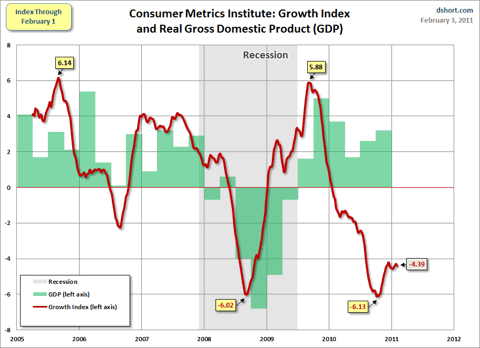 Has the Growth Index also served as a leading indicator of the stock market? The next chart is an overlay of theComplete Story »