Consumer Demand is Structured by Public Policy
Dave Roberts writes about the clash people "sustainable transportation" in the sense of less dependence on cars and "sustainable transportation" in the sense of cars that are just cleaner:
Is that really the extent of our ambition? To switch out the internal combustion engine for some other widget and otherwise keep on motoring as usual? To maintain the patterns of land use and development we have, simply with cars that emit less pollution? The poverty of that vision is tragic.
Now Honda guy would probably say, we have to build the cars consumers want, and what consumers want is big, powerful, long-range cars. They want the cars they have now, only less dirty. We respond to demand.
I don't think this is particularly accurate even on its own terms. In virtually every city I'm familiar with, officials are attempting to revitalize downtown districts or create new, dense, walkable, mixed-use developments. They're trying to create places where people don't need to drive. Why? Because people love those places! Despite what car companies want you to believe, there's no inherent human love of piloting military-sized vehicles through congested traffic.
Obviously I'm with Roberts. Demand for automobiles isn't going to drop to anything like zero, so cleaner automobile technology is hugely important especially since demand will surely rise in developing countries, but you can easily imagine a world in which Americans own about one car per household instead of about 2.4 cars per household. But car executives aren't wrong to say that people genuinely want to own a lot of cars. After all, in most places cars are vital so of course demand is high. But the key point I always return to is that this demand for cars is structured by the regulatory hurdles to dense building. Here's a bit of Arlington County, VA near the Clarendon Metro Station: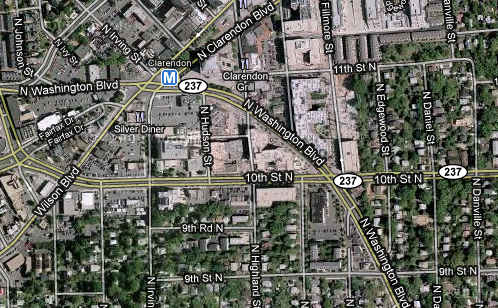 As you can see, there's a patch of dense, walkable urbanism that quickly tapers into suburban green. But that's not a coincidence. The shift to lower density is quite stark and abrupt because it reflects a change in the zoning rules. The single family homes in the spaces visible on the map that are currently up for sale are all listed at over $1 million. Which is to say that demand for living in that area is quite high and the land is very expensive. If people were permitted to build denser there, some of the lots would be more densely built and the zone of walkable urbanism would expand—especially if developers weren't required to provide parking at sub-market prices.