Commerce Cabinet Crisis XVI: John T. Connor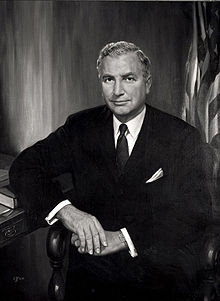 Born in November of 1914, John T Connor was a young New York attorney in 1942 when he somehow found himself attached to one of the wartime Office of Scientific Research and Development medical branches working on pharmaceuticals. Specifically, he was involved in the logistics of coordinating penicillin production. After the war he worked for Navy Secretary James V. Forrestal in which capacity he "disassembled the military penicillin program and incorporated it into the private sector". Having done that for two years, Connor became a pioneer in the field of cashing in by signing up with Merck as General Counsel. In 1964, he co-chaired the National Independent Committee for Johnson-Humphrey, which I guess was a kind of front organization designed to showcase support for the ticket from eastern moderate Republicans.
With the election won, Johnson moved to replace JFK holdover cabinet members with his own guys, and thus did Connor become Commerce Secretary, inaugurating the concept of making this department a place to stash an important fundraiser from the business world. Typically for a Commerce Secretary, he didn't play a significant role in the formation of Johnson administration economic policy. These were, however, the years in which the Bretton-Woods system started running into trouble so one important Connor initiative was an effort to corral/cajole American businessmen into taking voluntary action to stem the flow of dollars out of the country.
An early opponent of the war in Vietnam, Connor ended up resigning in 1967 after proving unable to persuade the administration that the war was damaging the country's economy. Upon stepping down, Connor swiftly became CEO of Allied Chemical and then once Richard Nixon was in office he founded an organization called Business Executives Against the Vietnam War.