Commerce Cabinet Crisis XI: The Return of Commerce Cabinet Crisis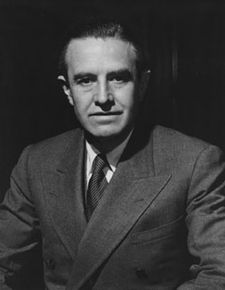 Back in the early days of Barack Obama's administration this blog had a series known as "Commerce Cabinet Crisis" dedicated to profiling, in order, America's Secretaries of Commerce as long as that crucial (well, not really) post went unfilled. When Gary Locke was finally named to the post, the series came to an end. But now with the announcement that Locke will be replacing Jon Huntsman as Ambassador to China, the series must return.
To sum up what we've learned so far, Locke was very typical of Secretaries of Commerce throughout history—an interesting man and accomplished public servant who did lots of noteworthy things, none of which occurred during his tenure at the Department of Commerce.
Our 11th Secretary of Commerce, W. Averell Harriman was no exception to the rule. He started off as a pioneering banker with involvement in international commercial banking and also what I believe we would now call private equity. He served as FDR's special envoy to Europe in the early days of World War II and was involved in the Placentia Bay meetings that led to the Atlantic Charter. He was wartime ambassador to the Soviet Union and postwar ambassador to London. Then in 1946 his string of interesting and important jobs came to an abrupt end as he was asked by Harry Truman to perform a stint as Secretary of Commerce. What he did in that capacity remains lost to history, but by 1948 he re-emerged as an important person and was dispatched to Paris to run the Marshall Plan. Harry Truman wanted him to be the Democrats' Presidential nominee in 1952 but he lost out to Adlai Stevenson. He was elected Governor of the great State of New York in 1954, made another failed stab at the Democratic Presidential nomination in 1956. During the Kennedy/Johnson administrations he became Assistant Secretary of State for Far Eastern Affairs, then Undersecretary of State for Political affairs until 1965. Then for one last hurrah in office he was the lead American negotiator with the Vietnamese at the Paris Peace Talks.
All in all, a fascinating and accomplished life. Plus a few years as Secretary of Commerce.