Column: Meet the anti-stimulus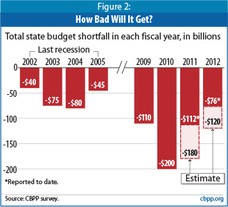 A multiple-choice question for you: Did the stimulus a) work; b) fail; c) end up locked in an unexpected battle with the massive anti-stimulus that's ripped through the states?
Most people would choose "a" or "b" (though I'd say "a" has the better of it). They probably haven't heard of "c." But ask Bruce Bartlett, a conservative economist who worked for Ronald Reagan, George H.W. Bush and Jack Kemp, and you'll hear all about it. "When the history of the current crisis is written, much of the blame will be placed on the sharp fiscal contraction of state and local governments," he says. "I think economists will view this as a preventable error equivalent to the Fed's passive shrinkage of the money supply in the early 1930s."
Take my home state of California, with an unemployment rate of more than 12 percent. We need the government to help create jobs, and quick. But instead, Sacramento is raising taxes and cutting services. That's like bailing water into the boat rather than out.
The Golden State has its reasons. Its budget is in terrible shape, and the constitution doesn't allow officials to run deficits. But in an effort to do right by the numbers, they're doing wrong by the economy. And they're not alone. Some 46 states are facing budget gaps that will require them to cut spending or raise taxes. The Center on Budget and Policy Priorities estimates that in 2011, the states will have to come up with a total of $180 billion.
These budget shortfalls are the equivalent of a massive anti-stimulus, which some experts believe has overwhelmed the $787 billion stimulus passed by the federal government in 2009.





United States - President - History - Economic - Government