China Struggling With Energy Efficiency Targets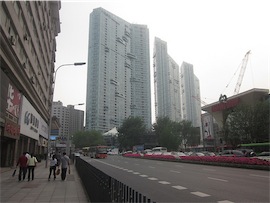 (my cc photo)
Everyone's understood for a while now that Chinese policymakers have no intention of cutting the country's carbon dioxide emissions in the short-term. But they have consistently expressed a desire to reduce the carbon intensity of the Chinese economy. In other words, the country is supposed to be getting more efficient, albeit still increasing the total volume of climate pollution it emits via the process of economic growth.
But in essence it's not working:
Already, in the last three years, China has shut down more than a thousand older coal-fired power plants that used technology of the sort still common in the United States. China has also surpassed the rest of the world as the biggest investor in wind turbines and other clean energy technology. And it has dictated tough new energy standards for lighting and gas mileage for cars. [...]
Aspiring to a more Western standard of living, in many cases with the government's encouragement, China's population, 1.3 billion strong, is clamoring for more and bigger cars, for electricity-dependent home appliances and for more creature comforts like air-conditioned shopping malls.
As a result, China is actually becoming even less energy efficient. And because most of its energy is still produced by burning fossil fuels, China's emission of carbon dioxide — a so-called greenhouse gas — is growing worse. This past winter and spring showed the largest six-month increase in tonnage ever by a single country.
Just as an example, I gather that Shanghai residents are richer than your average Chinese people. Nonetheless, you see enormous quantities of laundry drying in the open air on poles that protrude out from the windows of Shanghai apartment buildings. As the country grows richer, China is going to have more and more laundry dryers (perhaps made in China by Haier) either in their apartments or maybe as shared units in the basements. Even if those a very energy efficient dryers, they're not going to be as efficient as simply not having them. And you can go across the board with modern conveniences like this.
It's exciting to see average Chinese people enjoying higher-and-higher standards of living, but the medium-term ecological implications are fairly terrifying.