Children forced to eat animal feed to survive as Syria's civil war traps 18,000 Palestinians in refugee camp
Warning: Disturbing Images
Before the civil war started in Syria, the Yarmouk refugee camp was a bustling suburb of Damascus with about 150,000 people, many of them doctors, engineers and civil servants, according to the United Nations.
The camp, established in 1957 for Palestinian refugees, had turned itself into an "urban centre" with roads, schools, hospitals, concrete buildings, even a bus and taxi service.
Now, the camp, which lies only eight kilometres from the centre of Damascus, looks like a war zone. Many of the refugees have fled and the 18,000 who remain — mainly women, children, the elderly and the poor — are trapped and starving because of a prolonged siege by the Syrian government.
Infants and children are subsisting for long periods on diets of stale vegetables, herbs, powdered tomato paste, animal feed and cooking spices dissolved in water
More than 40 refugees have died of starvation in recent weeks, say activists who are calling on the Palestinian Liberation Organization (PLO) to intervene.
Abu Muhammed, an activist who works in the camp, said, "There are another ten people [dying] and there is nothing we can do for them."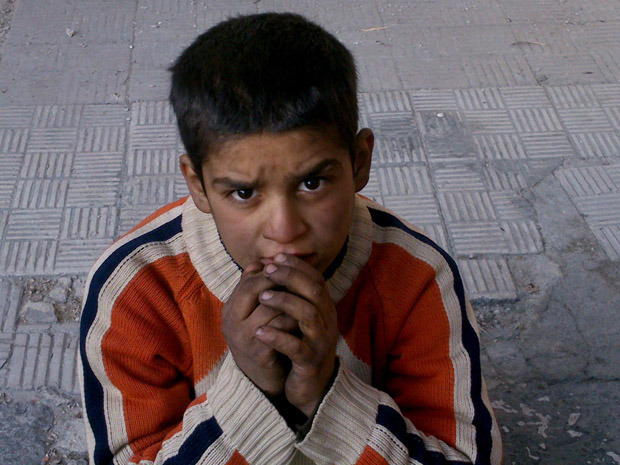 AP Photo/Palestinians of SyriaThis Jan. 6, 2014 activist photo provided by the group Palestinians of Syria shows a child sitting on a broken sidewalk after hearing that Syrian authorities would allow civilians to leave in the Palestinian neighbourhood of Yarmouk in Damascus, Syria. Hundreds tried to leave, only to find that fighting broke out, and the evacuation was cancelled.
Tensions within the Palestinian community reached Ramallah over the weekend as young protesters staged a sit-in at the PLO headquarters in the city over what they believe is a failure by the Palestinian administration to assist in relieving conditions in the camp.
"I am Palestinian," said Mr. Muhammed. "We want to tell the PLO that if they don't do anything the revolution will arrive to Ramallah and Gaza," he said.
Related

The camp was closed six months ago after it was used as a base for Syrian rebels. The UN aid agency, UNRWA, says conditions are now desperate.
"There is profound civilian suffering with widespread incidence of malnutrition with the absence of medical care; including for those who have severe conflict-related injuries, and including for women in childbirth – there have been fatal consequences for some of these women," said Christopher Gunness, spokesman for UNRWA. "Residents including infants and children are subsisting for long periods on diets of stale vegetables, herbs, powdered tomato paste, animal feed and cooking spices dissolved in water.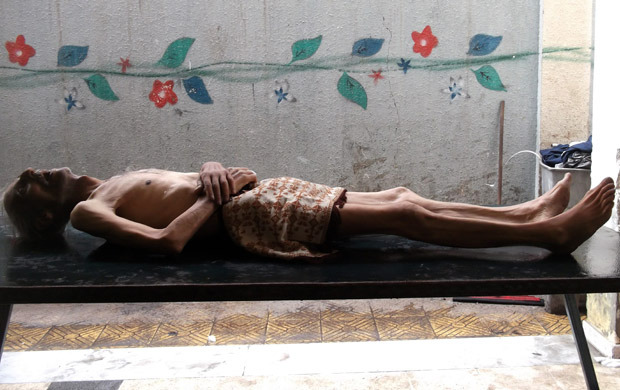 AP Photo/Palestinians of SyriaThis activist photo provided by the group Palestinians of Syria shows the emaciated body of Awad al-Saidi, who residents said died of hunger and sickness on Jan. 10, 2014 in the Palestinian neighbourhood of Yarmouk in Damascus, Syria.
"There has been an appalling absence of electricity and heating for horrendously long periods, now close to one year, with all this implies for poor health. Residents are having to rely on going out on terraces and burning furniture and branches to warm themselves in the open because wood fires cannot be resorted to indoors.
"The unending armed conflict brings death and inflicts serious injuries on Yarmouk residents in addition to the extreme deprivation of living a trapped existence."
Mr. Gunness urged the Syrian authorities to allow safe access to Yarmouk so aid could be delivered.
The Media Line, with files from National Post