This Chart Proves Coal is Finally Cooked
This post This Chart Proves Coal is Finally Cooked appeared first on Daily Reckoning.
In 1979, Jimmy Carter had 32 solar panels installed on the roof of the White House.
In 1986, crews removed the panels to complete roof repairs. Reagan never had them reinstalled, claiming the effort would be too expensive.
The real reason? The Reagan administration probably just didn't give a damn about alternative energy. Oil was $10 a barrel. Why waste time fiddling with primitive solar tech when crude was practically free?
Solar energy is still trying to find its proper seat at the energy table more than 30 years after losing its place on top the most important residence in the country. And it's not the only form of energy struggling to adapt…
Even the smartest investors in the world don't know what to make of the energy landscape these days. 2016 has been a volatile year dirty oil and clean solar. Despite renewed calls for governments across the world to do more to combat climate change, the solar sector has taken it on the chin. The Guggenheim Solar ETF is down more than 40% year-to-date. Meanwhile, oil is rebounding.
But the real energy winner of 2016 is coal.
Yes, that coal—the sooty stuff you're getting in your stocking for being a naughty investor this year…
Today, we're trading in our coal for cold, hard cash. By our calculations, we've squeezed every penny out of this trade. With the end of the year approaching, it's time to take profits off the table.
After all, everyone knows the coal industry is dying. Thanks to waves of new regulations, cheap natural gas, and a push for cleaner energy sources, coal's slowly going extinct.
Before it's incredible 2016 run, coal endured a terrible bear market. In fact, it was one of the worst investments you could possibly make. One of the main reasons? Folks believe the government's been trying to kill it off in favor of greener alternative energy.
And they're right! Obama's Environmental Protection Agency has said power plants must reduce their emissions of carbon dioxide 30% by 2030. It was a declaration of war on coal. It was the last straw for investors. Coal plants shuttered. And demand from China tanked. For nearly five years, coal stocks went nowhere but down. Even though it continues to generate a significant portion of this country's energy, coal became one ugly investment.
It's been downright impossible to make money off the stuff on the long side. Until this year…
Out of nowhere, coal shares bottomed out back in the winter and started plowing higher. By the middle of the summer, coal was on fire. That's when we decided to jump on the dead cat bounce for a trade. At the time, I said playing coal could net you gains of 50% over the next 12 months.
But it doesn't look like we're going to hit that target. Coal is starting to look a little shaky right now. The VanEck Vectors Coal ETF (NYSE:KOL) has now closed below its 50-day moving average for the first time in seven months. The coal ETF had been consolidating since the end of October. But after breaking down instead of bouncing at support, this trend looks like it might be running out of steam…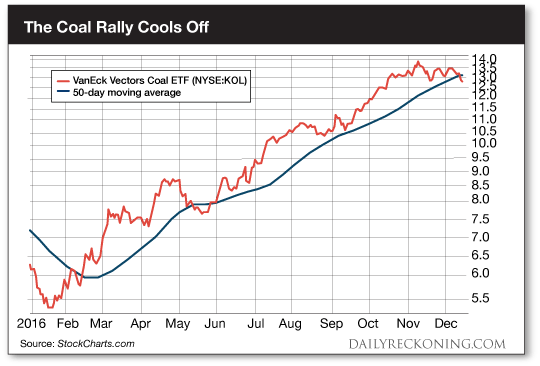 Selling today locks in gains of nearly 40%. Not a bad run for a dying industry that just enjoyed a massive oversold bounce after years of terrible performance (all the noise Trump made about coal and alternative energy during the election didn't hurt either).
We're not sure just how the coal saga is going to end. The industry is certainly on its last legs as most of the developed world moves on to cleaner energy sources. But we found a way to ride a dead cat bounce for most of the year and pocket some serious gains in the process. Not too shabby…
Sincerely,
Greg Guenthner
for The Daily Reckoning
The post This Chart Proves Coal is Finally Cooked appeared first on Daily Reckoning.