Cell phones and cancer: Maybe phone manufacturers can resolve the issue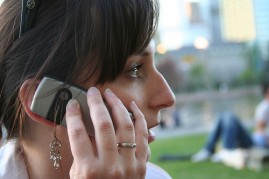 As one of the 5 billion mobile phone users in the world today, my interest piques each time I hear something in the news related to cell phone use and cancer. The thing that disappoints me each time, however, is that no concrete conclusions are ever reached and, as a result, the issue remains in limbo. For years now, researchers from around the world have been studying potential links between cell phone use and brain cancer. The World Health Organization, or WHO, recently released its findings indicating that long-term exposure to radio frequency
(RF) electromagnetic fields emitted by cell phones were "possibly carcinogenic to humans." The study involved 31 scientists from 14 countries (including the US) that evaluated hundreds of studies published over the years. The scientists found that some of the studies hold water, including one that indicated there was a 40% increased risk of developing glioma, a type of malignant brain cancer, in people that used their phones for 30 minutes a day over the course of 10 years.
Despite its findings, the WHO (and many other researchers, including the ACA) stopped short of drawing any solid, industry-changing conclusions, citing the lack of concrete proof and other studies that show no connection between cell phones and cancer. The fact of the matter is, it may take decades of cell phone use and many many more studies to discover a correlation, if there is one.
Personally, I really don't want to wait that long to find out either way. The consequences are simply too great.
That's why I think mobile phone manufacturers should lead the way on changing phone design to address the issue. Parting ways with cigarette makers, which for years denied the link between smoking and lung cancer simply because there was concrete no scientific proof, cell phone manufacturers could put their engineers to work to find inexpensive modifications or additions to the design of their phones. The industry is constantly changing and releasing new designs and models anyway, so improving the safety of phones could become part of the design process. How hard (or expensive) could it be to put some sort of shield inside of a phone? (I'd pay extra for a phone that blocked or reduced "possibly carcinogenic" electromagnetic fields.) I would imagine that the first company to come up with such a thing could even have a competitive advantage over its rivals.
My suggestions, of course, are not based on any engineering knowledge of mobile phones. The point is, I have faith that the same companies that made Internet-enabled phones can come up with some sort of solution to this ongoing concern. The main questions are these: How will they interpret the cost/benefit analysis of making changes to phones based solely on the concerns of their customers and the less-than-concrete conclusions reached by researchers? Or are they going to roll the dice and hope for the best?
If the response of John Walls, VP of Public Affairs for the CTIA-The Wireless Association, to the WHO's findings is any indication, then I'd guess the latter:
"The [WHO scientists] did not conduct any new research, but rather reviewed published studies. Based on previous assessments of the scientific evidence, the Federal Communications Commission has concluded that 'there's no scientific evidence that proves that wireless phone usage can lead to cancer.' The Food and Drug Administration has also stated that 'the weight of scientific evidence has not linked cellphones with any health problems.'"
(The CTIA is a wireless telecom industry lobbying organization based in Washington, DC. Its members include most major mobile phone manufacturers and wireless carriers.)
~
Photo by Steffen, under a Creative Commons license.