The Case For National Universities
Noah Smith notes that America's human capital stagnation has been accompanied by a drastic increase in the price of education that suggests a supply shortfall: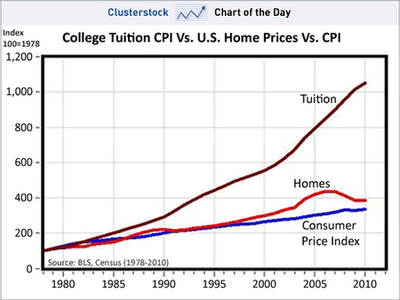 Which brings me to my idea of the day: A federally funded National University System.
When you have a supply shortage, one solution is to shift the supply curve to the right. Sometimes this is impossible. But in the case of U.S. public universities, it is very doable! Plenty of other countries have national university systems, and these national universities are often very high-quality. Why not us? Why don't we build a system of high-quality, federally funded national universities to co-exist alongside our already excellent state universities?
That analysis naturally raises the question of why the supply of universities should be so inelastic in the faace of rising demand. I think a potential answer here is that the shortage isn't so much of "universities" as it is of prestige. You could hire some people with PhDs and throw a few classrooms together pretty easily, but it would be extremely difficult to replicate the decades of history associated with America's selective colleges and universities. Federal intervention really might make a difference here if it was done in the right way. One way to do this would be to create a National Civil Service Academy modeled on the military service academies. A National Law Enforcement Academy and a National Teacher's College might also make sense.
To me these are all pretty good ideas, but I don't think they're really the fundamental issue. I'll explain what I do think is fundamental in a followup post.