Canada funding opponents of 'abhorrent' anti-gay bill in Uganda
Canada is quietly financing a concerted grassroots effort to aid gay Ugandans' fight against their country's proposed anti-homosexuality bill — and preparing them in case it passes, says a senior Department of Foreign Affairs source.
Since November, when the Ugandan Parliament renewed its effort to pass the legislation, which Foreign Affairs Minister John Baird has called "abhorrent," Canada has spent $200,000 to kick-start several gay rights initiatives in the region. The source confirmed that the Canadian involvement was specifically focused on fighting the Ugandan bill.
Homosexuality is already criminalized, but the proposed legislation would renew and reinvigorate efforts to rid Uganda of its gay population, and has attracted sweeping international condemnation.
The bill sought stiff jail terms for homosexuals, and those who failed to report them to the authorities, and in some cases life imprisonment. Legislators also sought to implement the death penalty for Ugandans who practise homosexual acts with an "aggravating factor," which includes a spate of criteria, including being HIV-positive.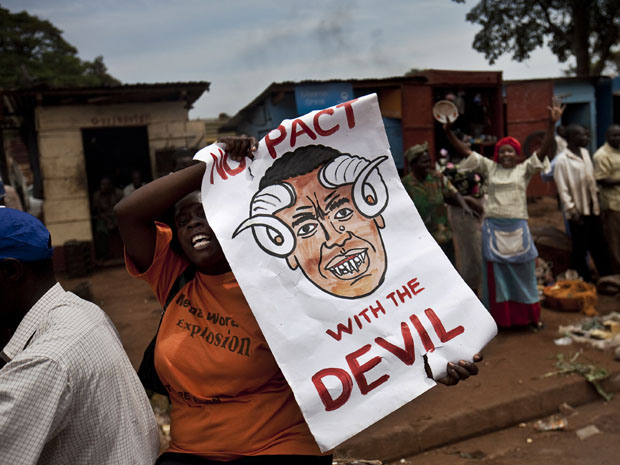 Trevor Snapp/AFP/Getty Images FilesUgandans take part in an anti-gay demonstration at Jinja, Kampala
Rick Roth, a spokesperson for Mr. Baird, told the National Post that "Canadian officials have conveyed Canada's concerns with the bill to Uganda's Foreign Ministry," and confirmed that Canada is "working closely with Ugandan civil society."
The financing agreements between local organizations and the Department of Foreign Affairs were signed in January, and carried out in late February, with most ongoing until the end of March. The money was divvied up between Uganda, neighbouring Kenya — where Canada's high commissioner for Uganda is based — and on region-wide projects.
Related

Gerald Bareebe and Brett House: How Uganda's 'kill the gays' bill is a homophobic farce
Anti-gay religious group gets funding from Canadian government for work in Uganda, where gays face severe threats
Uganda bill calling for death penalty for 'homosexual acts' condemned by activists
Warriors for gay rights: The Conservatives have become unlikely LGBT supporters
Despite Canada's direct involvement with the projects, including participation by the High Commissioner, Ottawa's involvement is not being advertised, at least not according to one activist.
One project based near Uganda was created to prepare for emergency scenarios – such as the passage of the Ugandan anti-gay bill – where homosexuals might need protection or help fleeing the area. Canadian funding has allowed a local group to establish an emergency hotline for those at risk, which has already helped a number of fearful Africans flee the area. Another program in the same country was established to put together emergency kits to distribute to those who fear for their safety.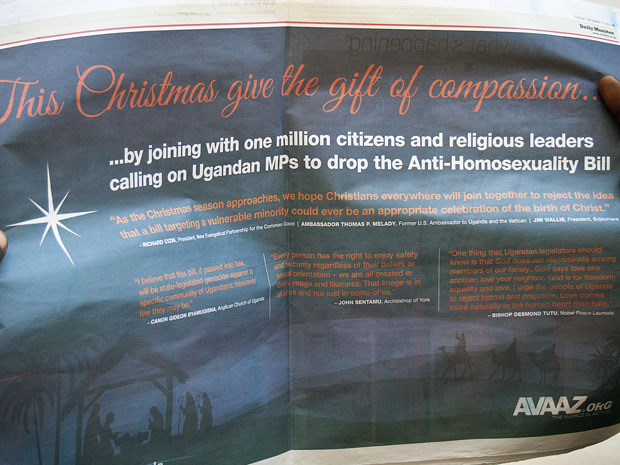 MICHELE SIBILONI/AFP/Getty ImagesA double page advertisement by campaign group Avaaz in the Ugandan newspaper The Daily Monitor, protesting against an anti-homosexuality bill.
Two Canadian-funded projects that span the entire Eastern African region are training legal experts and activists to fight exactly that kind of legislation. One event trained dozens of activists from throughout the area on how to use international human rights legislation to protect homosexuals, and promote gay rights. The second, held in Kenya, was a working group creating a litigation strategy to defend minority rights in the region, with a focus on gay rights. If the Ugandan bill is passed, the legal system might be the only thing stopping the government from jailing homosexuals. (The Ugandan constitution gives legal authority to a human rights commission, giving it the authority to overturn convictions if it deems there to be a human rights violation.)
One Uganda-specific workshop aimed to train activists on communications. The training, funded directly by the Department of Foreign Affairs, was run through a local gay rights group. A copy of the invitation to the event obtained by the National Post says it was centred around a workshop on "residential communication, public speaking and media [strategy.]"
The other program was a series of panels held across Kenya aimed at raising public awareness on gay rights.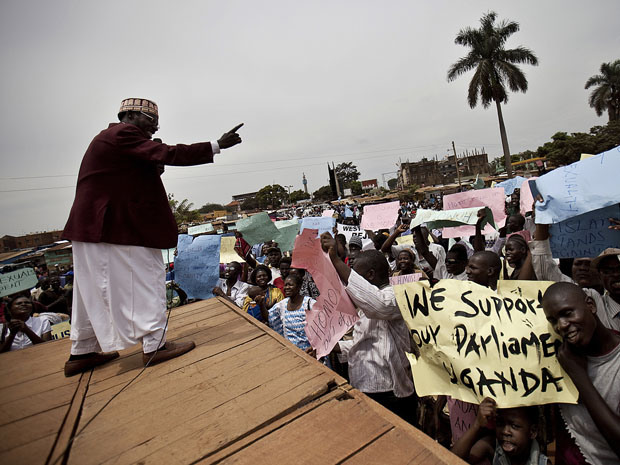 Trevor Snapp/AFP/Getty Images FilesA religious leader addresses a crowd of Ugandans taking part in an anti-gay demonstration at Jinja, Kampala.
Ugandan media, especially in the capital of Kampala, are notorious for their hard-line anti-gay stance. Rolling Stone newspaper — not to be confused with the American magazine of the same name — published the names, photographs and addresses of 100 known homosexuals in Uganda, with the headline "hang them."
The Canadian government has been increasingly critical of Uganda's efforts to pass the legislation, and these programs have fit into the Harper government's mission to battle the bill.
The legislation came back in the spotlight in November after Mr. Baird harshly criticized Uganda over the bill and its record on gay rights, at the Inter-Parliamentary Union conference in Quebec City. In a speech, Mr. Baird detailed the story of a Ugandan gay-rights advocate who was bludgeoned to death in his own home.
Rebecca Kadaga, the speaker of Uganda's parliament, repudiated Mr. Baird's criticism. "I will not stop a private member's bill from going ahead," she told the plenary.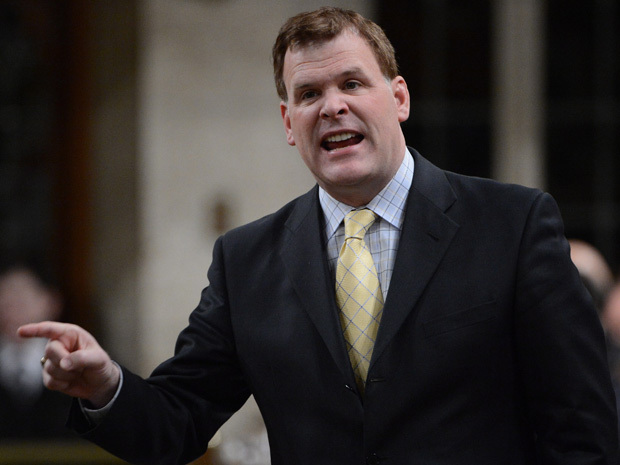 THE CANADIAN PRESS/Sean Kilpatrick Minister of Foreign Affairs John Baird.
But after returning to Uganda, Ms. Kadaga promised to get the bill passed, calling it a "Christmas present" to the country. In an interview, Ms. Kadaga said of Mr. Baird's push to kill the bill: "He was acting out of ignorance, and he was just being arrogant."
Both Ms. Kadaga and the private member bill's backbench sponsor, David Bahati, are MPs for the governing National Resistance Movement. While there has been virtually no opposition to the bill from within Parliament, with some MPs speculating that if it ever came to a vote its passage would be assured, President Yoweri Museveni has recently come out against the bill, after tepidly supporting it for years.
Since the bill's re-introduction, it has sat on the order paper, moving up and down but never coming before the legislature for a vote. It currently sits at number five on the list of bills to come before legislators.
Last month, the Harper government was criticized for providing $544,813 in funding for Crossroads Christian Communications, which has described homosexuality as a sin and "perversion," to help dig wells, build latrines and promote hygiene awareness in Uganda through 2014. Prime Minister Stephen Harper said the government considers the efficiency of projects it funds, not the religion of groups promoting them.
National Post