A California insurer shows how health-care reform would work, and help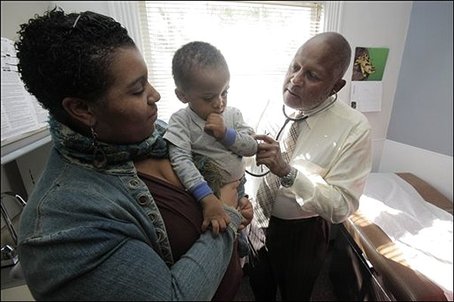 The Anthem Blue Cross saga appears to have a happy ending: After criticism from the administration, the insurer has delayed the planned 40 percent rate hike. That will give the company time to reevaluate whether it's worth the blow-back, and I'd guess there's a good chance it never takes effect at all.
But if this is a good outcome, it's a not a good policy. The insured can't depend on someone in the White House's communications shop noticing when an insurer tries to screw its customers. What we need is an actual policy standing between the insured and the grim incentives of their insurers. That's what health-care reform is meant to be, and the Anthem saga is a good example of how it would work.
The Senate bill contains two separate categories of provisions that would stand between the insured and what Anthem attempted in California. The first are consumer protections that could be invoked if an insurer tried to raise rates precipitously. The second are market reforms that make it less likely for an insurer to try, and less calamitous for individuals if the insurer succeeds.
Let's start with the consumer protections. Under health-care reform, the Anthem plan -- which serves high-risk customers in the individual market -- would be in the exchange. If Anthem attempted to jack rates up by 40 percent, a couple of things would happen.
First, Anthem would have to justify the rate increase to the exchange's administrators and post their justification on their Web site. That's essentially what the Obama administration forced Anthem to do last week, and it was enough to derail the hike. Second, Anthem would run smack into Section 1311 of the bill, which gives regulators the power to control access to the exchanges based on whether the plan "is in the interests of qualified individuals and qualified employers in the State." In fact, the bill specifically states that regulators can take "excessive or unjustified premium increases" into account when deciding whether to certify a health-care plan's continued presence in the exchange.
In other words, Anthem's plan could be kicked out entirely for this rate hike. That would probably have to happen to only one health insurer for the rest to take notice that precipitous and inexplicable rate hikes are no longer going to be part of the business model.
But perhaps the more important part of health-care reform is that it would no longer make sense for Anthem to do this sort of thing. The problem is not that insurers are bad so much as that the market rewards bad behavior with profits. In this case, Anthem has an insurance plan with sicker people that is not proving profitable. They're increasing the costs to either drive those people out or force them to pay a lot more.Under health-care reform, this wouldn't happen. First, insurers can't discriminate based on preexisting conditions any longer, and their ability to discriminate based on age or other factors is substantially reduced. That means that everyone is functionally in the same big pool.
Second, if one insurer or another does end up with an unusually sick customer base, the next move isn't to jack up rates on them. Instead, Section 1341 of the bill outlines the risk adjustment provisions, which basically means that there's a fund that will pay an insurer more if it ends up with sicker customers. The idea is that insuring people who need health care shouldn't be bad business.
Finally, let's say everything fails and the insurer decides to walk from the exchange. In the current situation, the people on Anthem's plan have nowhere to go. They all have preexisting conditions, which means they either won't be offered insurance or can't afford the rates. Under health-care reform, they can go to any other insurer they please: They can't be discriminated against, and they can't be denied coverage. Losing their current insurance may be disruptive, in the same way that having your local grocery store close might be disruptive. But it will no longer be calamitous, or anything close.
Since Scott Brown's election, the conversation over health-care reform has become very, very political, and quite abstract. But the Anthem decision is a good moment for Democrats to return the conversation to the real problems that the real bill will really solve. If health-care passes, no one need fear what Anthem almost did in California ever again. If it fails, then it will simply continue happening, on and on into the future. That's the choice before Congress right now.
Photo credit: AP Photo/Marcio Jose Sanchez.