Is the Bull Market Over? Here's the Shocking Answer…
This post Is the Bull Market Over? Here's the Shocking Answer… appeared first on Daily Reckoning.
How old do you think this bull market is?
Most folks will tell you it just turned 6. And due to the bull market's age, they think it's about to run out of steam – that it's nowhere but down from here.
But they're wrong…
I'm about to show you why this bull market could just be getting started—even though a majority of the experts all think it's just 6 years old…
As The Wall Street Journal bleats, "The Dow Jones Industrial Average is up a whopping 173% since then. As the bull market officially turns six, it now ranks as the fourth longest of the 23 bull markets for the Dow since 1900."
Except it doesn't…
That's because this bull market is really only 3 and-a-half years old.
Why do I say that? What do I see that most others don't?
The 2011 Eurozone crisis…
It caused a sharp correction in U.S. stocks that stopped the rally off the 2009 bottom in its tracks. And it basically set the clock back to zero.
And a few other smart people agree with me…
According to Ned Davis Research, the current bull market actually started on October 3, 2011. The stock market abruptly corrected starting that April when Europe began falling apart. Not until October did the market get its ass in gear.
Why the October 2011 starting line?
As Mark Hulbert explains, "That's because the company counts the market's April-to-October 2011 decline as a bear market. And it's hardly a stretch to agree with Ned Davis: Between its intra-day high April 29, 2011, and its intra-day low the subsequent October, the S&P 500 fell 21.6%, the widely accepted definition of a bear market as a decline of at least 20%."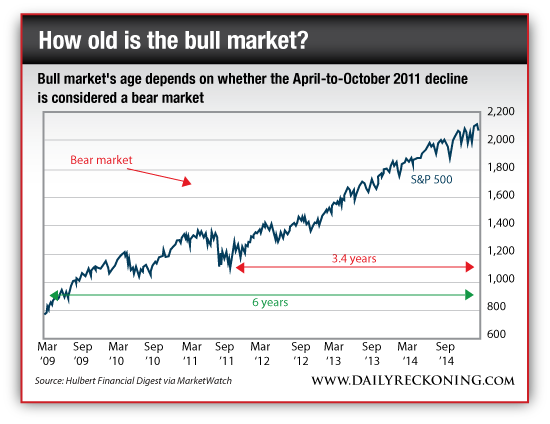 So there you have it: since the market, peak to trough, only closed 19% lower during the crisis — not 20% — most experts don't officially consider it a bear market.
Know what I say to that? Bovine Scatology!
If it looks like a correction, walks like a correction and quacks like a correction…then it's a correction. Don't try and split hairs with me. The market corrected in 2011.
So as far as I'm concerned, all of this talk about this bull market getting long in the tooth is just. It's only 3 ½ years old, not 6. Here's the bottom line:
We're coming out of the worst recession in decades. And stocks just recently hit new highs. Instead of freaking out about it, embrace it. Stocks have all kinds of room to run from here.
Look, I know they've had a lousy week. The Dow lost 332 points Tuesday. And the S&P 500 dropped a whopping 1.7% so I don't blame you for thinking we're in for another crappy chop fest.
But it won't last. I think the market reverses sometime this week. And if not this week soon enough – I'm not a 1-800-number psychic so I can't give you the exact date. Doesn't matter though – the trend is higher.
Regards,
Greg Guenthner

for The Daily Reckoning
P.S. Do your best to ignore the shrieking of the financial media and stay focused on your trades. If you want to cash in on the biggest profits this market has to offer, sign up for my Rude Awakening e-letter, for FREE, right here. Stop missing out. Click here now to sign up for FREE.
The post Is the Bull Market Over? Here's the Shocking Answer… appeared first on Daily Reckoning.