The Bottom Line on timing
They say the secret of great comedy is in the timing. Most chief executives would probably the same about business: whether you win or lose, timing always seems to have a lot to do with it. But, as your grandmother ought to have told you, there's a difference between doing something quickly and doing it well. When I hosted The Bottom Line this week, I asked my guests how they managed the tricky business of time. And what happened when they got it wrong.
Around the table were David Wild, the chief executive of Halfords, Mike Norris, the head of Computacenter, an IT services firm that does the "corporate plumbing" for big companies around the world and Chris Moore, chief executive of Domino's Pizza in UK and Ireland, which now sells a million pizzas a week in those two countries alone.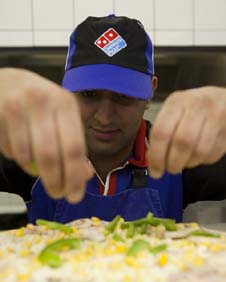 As you can imagine, timing means something different to Mr Moore than it does to the other two. Every Domino's Pizza customer is supposed to get their order within 30 minutes, and around 90% of them do. Mr Moore said the lesson of experience - here and in the US - was that "up to 30 minutes, the customer's hungry, after 30 minutes, they're angry". The single most important statistic in his business is the time between the customer putting down the phone and the pizza going out of the door of the shop. Every Domino's franchise has that "out-the-door" time monitored, down to the nearest second.
For Computacenter, timing is a more nuanced affair, with clients paying more, according to how fast they need their IT systems to be put in and, especially, how fast they need them to be fixed when they fail. Smaller companies might be willing to wait a day for the technicians to arrive. Foreign exchange traders in the city are apoplectic if the system is down for 30 seconds - let alone 30 minutes.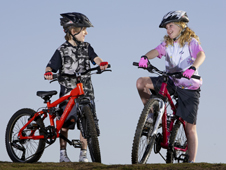 The boss of Halfords also had some interesting stories to tell about getting the timing right, and getting it wrong. They timed their anti-freeze supplies about right, for last winter's snow and ice. But this time last year they drastically underestimated how long Chinese migrant workers would stay at home after Chinese New Year. The result was a big shortage of bikes in UK stores in April and May. Another sign of the times. I bet Mr Wild's predecessors didn't have to worry about Chinese holidays and how it would affect the supply of children's bikes.
With the continuing turmoil in the Middle East, I also asked my guests whether they felt a responsibility to keep up with world events generally - and whether it really mattered, from a business standpoint, if they switched off. We had an interesting range of comments on that subject as well, including some intriguing observations from our UK pizza supremo, on the difference between Muammar Gaddafi and Cheryl Cole. For that and more, I'm afraid you'll have to tune in.