Boston Green Fest Wrap-Up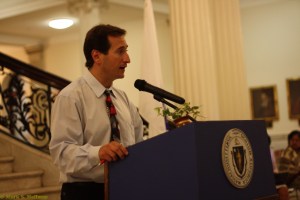 Scott Szycher speaking at the Green Jobs Forum Fellow Green Group Boston member Mark Hoffman and I (Scott Szycher) had the pleasure of attending the Boston Green Fest last week, including the Green Jobs Forum on Thursday at the Massachusetts State House. I thought there were some tidbits that apply to the Seacoast region, and the Green Alliance community.
The Green Jobs Forum actually focused on several problems facing Boston. It's densely populated, with a lack of "green" space for its residents to farm in, and its children to play in. As a result, one of its biggest challenges revolves around the issue of food: how can the city increase its residents' access to fresh, locally grown food?
Although multiple farms operate close by in Eastern and Central Massachusetts, we are awash in cheap, heavily-processed food that comes from factory farms and agribusinesses that have little or no connection to our area. Just walk down the aisles of any large supermarket: the products are dominated by foods that have been shipped here from hundreds, if not thousands of miles away.
Moreover, when our food comes from a handful of giant corporations, quality suffers, health and safety corners are cut, and disease outbreaks are rampant. The latest fiascos, involving recalls of 380 million eggs and 380,000 pounds of deli meats potentially infected with a deadly bacteria, underscore the inherent dangers of concentrated food production.
Localizing our food production would provide immediate health and economic benefits for all residents of New England, including:
* improved health, as locally grown meats, poultry, and produce have more nutrients than their industrially-produced counterparts
* less use of pesticides and fertilizers. Even small farms that aren't organic use considerably less chemically-based inputs than large-scale farms and concentrated animal feeding operations
* a reduced carbon footprint due to less vehicle miles from long-distance transportation of food
* MORE JOBS LOCALLY!!
It was suggested that concerted efforts be made to connect Boston-area restaurants, schools, and residents with local farms, over and above weekly Farmers' Markets. This would create jobs and while improving health and wellness.
Another topic that came up was the economic and employment benefits that would accrue to Boston if we got more aggressive about energy efficiency efforts within urban environments. Given that many of our residences (and commercial buildings, to a lesser extent) are quite old, we could create significant job opportunities in weatherization and energy efficiency retrofits while reducing energy demand, thereby saving homeowners money during cold Winters. It's worth noting that the Regional Greenhouse Gas Initiative (RGGI) has money dedicated towards energy efficiency efforts.
On Saturday, I attended the "citizen" portion of the Green Fest, featuring exhibitors, guest speakers, and bands on City Hall Plaza. Green Part gubernatorial candidate Dr. Jill Stein addressed the crowd, and touched on a range of issues from climate disasters in Eurasia, to Cape Wind, to health care, to her chances in the upcoming election. Several of the follow-up questions focused on Cape Wind, which Dr. Stein is not "sold on" in the sense that she believes the consumer price for energy from Cape Wind is artificially high, due to what she referred to as "back-room dealing between the Patrick administration, National Grid, and Cape Wind" (the private development company.)
In a smaller get-together after her speech on stage, Dr. Stein used the experience of former MN governor Jesse Ventura as a model for hers; Ventura was a lightly-regarded fringe candidate until a sterling performance during a gubernatorial debate sent his stock skyrocketing. She feels that while the Green Party has been disciplined in building its email list, she needs to hit it out the park during the debate(s), and use that to grab votes in a crowded field.